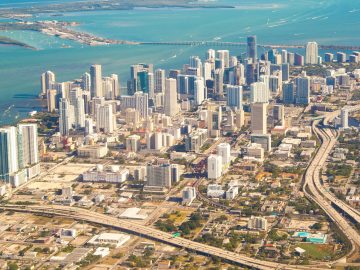 Here are the major real estate projects on the ballot in Miami
After years of jumping around Miami for a site to build a multimillion-dollar Major League Soccer stadium, David Beckham and his partners will be asking City of Miami residents to approve their latest pitch. Fueled by Jorge Mas and his brother Jose, the new ownership group is proposing a $1 billion mixed-use complex on about 73 acres of the Melreese Country Club site at 1400 Northwest 37th Avenue…
Inventory In Wynwood Set To Double In 3 Years
In the early 2000s, Miami's Wynwood district transformed from a gritty warehouse area into a thriving arts center with street art murals and galleries. It then morphed again, developing a nightlife scene with restaurants, bars and creative spaces. Investors believe that a new wave of residential and office construction that's currently underway will bring on yet another chapter: Wynwood as a more mature live…
Will David Beckham Finally Get A Soccer Stadium? That's Up To Miami Voters
David Beckham's push to get a Major League Soccer team going in Miami has faced a long slog, with five years having passed as his ownership group looks for a suitable stadium site. After several sites were considered then nixed for environmental or financial reasons, the group is now focused on a city-owned golf course. One catch: The city needs permission from voters to move ahead…
Biotechnology company pays $12 million for 12-acre industrial property
Thermo Fisher Scientific Corp just paid $12 million for a 12-acre industrial property in northern Miami-Dade County that houses a manufacturing facility formerly owned by Becton Dickinson & Co. Thermo Fisher Scientific bought the property at 100 Northwest 176 Street after it completed an acquisition last week of the Advanced Bioprocessing business of Becton Dickinson for $477 million in cash.
TA Realty pays $36 million for industrial portfolio in Hollywood
TA Realty just bought two industrial buildings in Hollywood from Guardian Life Insurance Co. of America for $36.1 million. Property records show the insurer sold an 83,880-square-foot warehouse at 2551 Southwest 39th Street and a 134,320-square-foot warehouse at 4140 Southwest 30th Avenue. In total, the portfolio spans 218,200 square feet, meaning the deal breaks down to about $265 per square…
Somera Road is latest firm trying to raise $500 million to invest in Opportunity Zones
Add Somera Road to the growing list of real estate investment groups seeking to raise millions of dollars to invest in distressed areas as part of a new federal program. Somera Road is looking to raise $500 million to invest in those Opportunity Zones, and is in talks to buy several properties located within the program's designated areas. The New York-based firm joins RXR Realty,  Youngwoo & Associates…
Sales of sites in Opportunity Zones up 80%
Property owners in designated Opportunity Zones are now seeing their sales prices and asking prices spike since the tax incentive program was announced last year. Sales of development sites in the 8,700 designated zones across the country increased 80 percent in the first three quarters of 2018 year over year, according to the Wall Street Journal, citing data from Real Capital Analytics. Opportunity…
Ransom Everglades expanding again in Coconut Grove
Ransom Everglades School's Coconut Grove campus is growing – again. The prominent, private middle and high school is under contract to purchase a home at 1921 South Bayshore Drive for about $3.7 million, according to Engel & Völkers Miami. The deal, set to close Nov. 15, would add about an acre to the 16.7-acre campus. The property the school is buying includes a three-bedroom, 4,612-square-foot…
44-story Alton Road tower gets Miami Beach planners' OK
After 118 meetings – according to developer Russell Galbut – the 500-700 Alton Road single-tower development could finally be going before the Miami Beach City Commission for the first of two readings. The city Planning Board on Oct. 23 unanimously recommended the city commission allow a 44-story tower with a height of 519 feet. Last month, the Land Use Development Committee recommended 44…
Crumbling affordable housing in Miami Beach faces deadline
Ceilings falling in, mold growing and an infestation of insects are just some of the complaints coming from Crespi Park Apartments, affordable housing units in Miami Beach rented mostly by seniors. On Oct. 17, the city commission voted to give the buildings' owners, the Miami Beach Community Development Corp. (MBCDC), a "90-day reprieve" to "come back with a plan" on how the organization will…
William Talbert III: Looking to game-changer convention headquarters hotel
As president and CEO of the Greater Miami Convention & Visitor Bureau, William Talbert III has for almost two decades steered the official destination and sales and marketing organization for Miami-Dade County and roughly 1,100 private business partners. His tenure is decorated with major accomplishments, including assisting with the passage of the Travel Promotion Act, a food and beverage tax to…
Conditions Ripe For More Multistory Warehouses In Miami, Other Densely Populated Cities
Multistory warehouses are becoming more common in densely populated metropolitan areas, according to a new report put together by CBRE. Seattle, San Francisco, New York, Miami, Chicago and Los Angeles are the most favorable markets for this type of industrial development to take place due to the high land prices, dense population and the high concentration of e-commerce shoppers in these…
Elion Partners buys Medley warehouse for $8 million
A company tied to Elion Partners paid $7.6 million for a warehouse in Medley that serves as the headquarters of Majestic Mirror & Frame. EVI 7425 LLC, which is led by the principals of the real estate investment firm Elion Partners, bought the 62,713-square-feet building at 7425 Northwest 79 Street from A Jay Properties, which is tied to Alan Mandel, the founder of Majestic Mirror & Frame…
$13 Million Refi Secured for Miami Beach Hotel
Berkadia has secured a $13 million loan for the refinancing of The Lord Balfour Hotel, an 81-key boutique hotel in Miami Beach, Fla. Mercantil Bank provided the 24-month mortgage that carries one 36-month extension option. Located at 350 Ocean Drive in Miami Beach's South of Fifth neighborhood, the hotel was constructed in the Art Deco style during the 1940s. Current owner Eidico, an…
Capital Arranged for Acquisition of Apartment Community in Miami Gardens
Eyzenberg & Co. has arranged financing for the acquisition of Park Plaza, an apartment community at 17600 NW 5th Avenue in Miami Gardens. A joint venture between Coastline Management and Tower Capital Group purchased the 234-unit property from an undisclosed seller. Robert Ginsberg and Mila Babenko of Eyzenberg & Co. arranged a $7.5 million equity investment from JCR Capital, an alternative…
These are the biggest RE donors to House of Representatives candidates in SoFla
As South Florida voters head to the polls on Tuesday, Nov. 6, they'll be met with an array of candidates from both sides of the aisle with platforms impacting a variety of real estate issues. Candidates for the U.S. House of Representatives, who include Donna Shalala, Carlos Curbelo and Debbie Wasserman Schultz, scored donations from big names in real estate, like…
What happens when an EB-5 project fails?
In 2012, a trio of developers drew up plans to build a 12-story InterContinental hotel in Fort Lauderdale Beach. The Las Olas Ocean Resort would include a 12,000-square-foot restaurant from the management company behind Senior Frog's. To fund the development, the ownership group tapped Bancorp Bank and later, dozens of Chinese investors who poured in millions of dollars through the federal…
SoFla construction starts rise in September
Construction starts in South Florida pushed the pedal a little harder in September, as both residential and commercial sectors saw increases on a year-over-year basis. According to Dodge Data & Analytics, last month's total building activity spiked 45 percent, up to more than $1 billion, thanks to a strong boost in residential starts. Compared to the same month last year, residential construction…
Bentley Edgewater reborn as Holiday Inn after Heafey partnership sours
When the Heafey Group launched sales for its planned Edgewater condo-hotel, it did so in the typical style of 2016: with a red carpet, cocktails, and a parked row of expensive cars that shared the project's deluxe branding — Bentley. What a difference two years make. Today, Heafey is out, the site is still vacant, and the Kobi Karp-designed Bentley Edgewater Hotel & Residences will rise instead as…
Gomez scores $24 million construction loan for Fontainebleau apartments
A company tied to developer Marlon Gomez just scored a $24 million construction loan to build an apartment complex in the Fontainebleau area of Miami. Fontaineparc, a company led by Gomez Development Group's Gomez will use the loan to build a 133-unit building at 275 Fontainebleau Boulevard in western Miami-Dade County, records show. Miami-based BridgeInvest is the lender.
Video: Reis Economist Barbara Denham Presents Retail Property Sector Update and Forecast
Barbara Denham, Economist with Reis, appears on America's Commercial Real Estate Show to discuss retail real estate. In this segment, Ms. Denham notes that mall vacancy rates made a big jump in the last quarter from 8.6% in Q2 to 9.1% in Q3, as a number of Sears and Bon-Ton stores closed. She noted this is the biggest such increase since the housing crisis. Shopping center vacancies, i.e. more open…
Realterm Logistics Final Mile at Medley Florida
The Final Mile at Medley property is now available for lease. The address is 7500 NW 82nd Place, Medley, FL 33166. The 28,000 sq. ft. warehouse building sits on 10.8 acres. The landlord / developer, Realterm Logistics, will consider build-to-suit construction for long term, creditworthy tenants… sold the property to Realterm for $10,000,000. The sale reflected a land value of about…
Old U.S. Post Office and Courthouse To Be Converted Into Five Levels Of Bars & Restaurants
Post Office Development LLC has submitted plans to restore the Old U.S. Post Office and Courthouse in downtown Miami with a new project called the Republic Entertainment Bureau. If Miami's Historic and Environmental Preservation Board approves the plan, the four-story building, which was once known as the most modern federal building south of Washington D.C., will be rebuilt to include bars…
Mattress Firm to landlords: Drop (rents or your store is) dead
Mattress Firm's landlords have a tough choice on their hands. They can slash rents on hundreds of stores throughout the country and keep the embattled mattress retailer, or find new tenants. CEO Steve Stagner told Mattress Firm's landlords on a conference call earlier this month that the Houston-based chain would have to vacate their stores if the existing terms remained, according to Bisnow.
Miami Based Lennar to sell Rialto to Stone Point Capital for $340 Million
Lennar Corp. will sell its Rialto Investment and Asset Management to the private equity firm Stone Point Capital for $340 million. Miami-based Lennar announced the news on Monday in a release and said the sale is expected to close Nov. 30. The Wall Street Journal reported earlier this month that the homebuilder was in talks to sell its Rialto division to Greenwich, Connecticut-based Stone Point Capital.
Renderings revealed: ESJ Capital unveils Jungle Island hotel & more
After receiving voter approval, ESJ Capital Partners released a slew of renderings for its proposed Jungle Island hotel. The vote allowed the Aventura-based developer to extend its lease to 39 years, plus a 15-year option, for the planned 300-room hotel. ESJ recently submitted plans to the city of Miami for construction of the project. ESJ closed on the initial $60 million lease transfer of the 18-acre Watson Island…
New co-working concept inks Wynwood deal
A new co-working concept is opening in Wynwood, adding to a growing number of shared-space operators and boutique office buildings rising in the artsy neighborhood. MINDS Co/Work is opening in mid-November in a 9,500-square-foot space at Lombardi Properties' building at 120 Northwest 25th Street, according to a press release. Julian Oquendo of Lombardi said the company leased about 80…
South Florida retail vacancies, asking rates rise in Q3: report
Even South Florida can't escape some of the challenges retail has faced nationwide. South Florida has long outperformed other areas of the country when it comes to retail. The region's malls, such as Aventura Mall and Sawgrass Mills, are ranked as some of the most trafficked and profitable malls in the country. But the struggles of retail shopping centers, coupled with new retail space delivered, drove…
Construction finished on 1 of 2 towers at The Harbour in North Miami Beach
Key International and 13th Floor Investments completed one of the two towers at The Harbour, their 32-story condominium development in North Miami Beach. The Miami-based developers received a temporary certificate of occupancy from Miami-Dade County for the development's 213-unit south tower. Key International and 13th Floor also said in a press release that they expect to receive a temporary…
SkyRise Miami set to take off once again, could be Florida's tallest tower
SkyRise Miami, the contentious 1,000-foot entertainment and observation tower planned for downtown Miami, is finally set to start construction next year. When completed, it could become the tallest building in Florida, though other South Florida projects that are not yet built are planned to be slightly taller. Berkowitz Development Group has selected Plaza Construction to begin construction on Skyrise…
Verzasca sells Edgewater site where it planned rental tower
Verzasca Group just sold a development site in Edgewater where it planned to build a residential tower. Verzasca's 2000 Biscayne Boulevard LLC sold the nearly 33,000-square-foot property at 2000 Biscayne Boulevard to Biscayne and 20th Street LLC for $13.1 million. Estrella Perez of EP Realty Group represented the buyer, which is led by investor Enrique Manhard. Hellos Real Estate Investment Services…
Hotel brands can add value to condo projects: TRD Miami panel
What's a hotel name worth? Quite a lot when it comes to hotel-branded development projects in South Florida, according to panelists at The Real Deal's South Florida's Real Estate Showcase & Forum. Louise Sunshine, a strategic adviser to the owners of Fort Partners, said the Four Seasons brand adds a minimum of 30 percent in value to its residences. Highlighting the success of the Four Seasons brand…
Melding online and physical retail is the key to surviving: TRD Miami panel
Retail landlords can survive the popularity of online shopping by recruiting tenants with a strong digital and physical presence in the market, according to a panel that spoke Thursday at The Real Deal South Florida's Showcase & Forum on Thursday. "I don't think there's a retail apocalypse," said Craig Robins, president and CEO of Dacra, a leading owner of commercial property in the Miami Design District…
Miami's condo market of future less about "cycles and roller coaster rides": TRD panel
A shortage of developable land and a credit crunch means Miami's luxury condo market will see significantly fewer new projects break ground next year. "There are a lot of properties that continue to be marketed that still haven't come out of the ground," said Louis Birdman, who is developing Zaha Hadid's luxury One Thousand Museum. "I don't think that you are going to see much come out of the…
Taubco scores $46.5 million refinancing for Causeway Square in North Miami
Developer Taubco just closed on a $46.5 million refinancing of Causeway Square, its 168,956-square-foot, mixed-use development at 1801 NE 123rd Street in North Miami. The financing was provided by 3650 REIT, which is a newly launched commercial real estate lender based in Miami. Charles Foschini, Chris Apone and Robert Iudice of Berkadia's South Florida office arranged the 10-year loan on behalf of…
$46.5 Million in Refinancing Arranged for Mixed-Use Development in North Miami
Berkadia has secured $46.5 million in refinancing for the recapitalization of Causeway Square, a 168,956-square-foot mixed-use development located in North Miami. The borrower is Taubco, a real estate developer and manager based in South Florida. 3650 REIT, a Miami-based real estate lending, investment and services firm, provided the 10-year loan. Charles Foschini, Chris Apone and Robert…
Trump Group inks $600 million contract with Coastal to build Estates at Acqualina, largest ever for condos
Trump Group has inked a $600 million contract with Coastal Construction to complete both towers and the amenity villa of The Estates at Acqualina in Sunny Isles Beach, The Real Deal has learned. The contract, signed Thursday and announced at TRD's Real Estate Showcase & Forum, ranks as the largest ever for a condominium project in South Florida. Earlier this month, Trump Group, led by Jules and Eddie…
The Latest And Greatest In Miami Amenities: A 'Nautical Concierge'
Park Grove is a brand-new condominium building in Miami's Coconut Grove neighborhood. The rooftop pool deck has cabanas with TVs and couches, elevators open right into residents' units, and a sumptuous private screening room has enough seating for 28 people to Netflix and chill. But its signature amenity is the building's "nautical concierge," Madeleine Kelly, who organizes sailing trips…
Wawa secures three lease deals throughout Miami-Dade, other news in leasing
Wawa is expanding to three different locations throughout Miami-Dade County. The Pennsylvania chain of convenience stores inked lease deals totaling about six acres in Kendall, South Dade and near Westchester. The stores are opening at 120th Street and 137th Avenue, near the Kendall Tamiami Executive Airport; Quail Roost and 112 Avenue; and 6971 Southwest 24 Street, along Coral Way and just east…