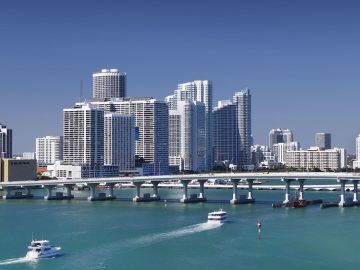 Hurricane Dorian spared South Florida but will still cost developers and contractors
Most general contractors are back to work in South Florida, after securing and shutting down their job sites last week in anticipation of Hurricane Dorian's arrival. While South Florida escaped the storm's wrath, developers and contractors saw their costs rise as the days ticked by. The once-Category 5 storm, now a Category 2, devastated the northern Bahamas in recent days, but its core stayed offshore…
Codina Partners, USAA Break Ground on 147,768 SF Industrial Building in Metro Miami
Codina Partners and USAA Real Estate have broken ground on Building F, a 147,768-square-foot industrial building within Beacon Industrial Park in Hialeah. Codina and USAA are the owners and developers of Beacon Logistics Park, which will comprise more than 1.3 million square feet of industrial space when complete. The campus is located at NW 145th Place and NW 107th Avenue, 23 miles…
Winner Announced for $260M Miami-Dade Courthouse Bid
The courthouse, which will be built on Flagler Street next to the existing 1928 facility, will provide more than 600,000 square feet of space and services for the Eleventh Judicial Court of Florida, the Clerk of Courts and other related court partners and agencies. The project will include construction of more than 46 jury courtrooms and shell space for an additional four jury courtrooms; a parking area with secure…
Video: Seacoast Commerce Bank Senior VP Melanie Brown Discusses Financing for Real Estate
Melanie Brown, Senior VP at Seacoast Commerce Bank, joins America's Commercial Real Estate Show in Studio One to discuss how to best utilize SBA loans for real estate properties. She discusses how SBA financing in some cases can allow for 90% financing, thus offering more leverage. She also notes that the amortization periods tend to be longer, thus lowering debt service payments and perhaps allowing…
Florida bill would halt evictions during a state of emergency
Florida Rep. Michael Grieco wants to pass a bill that would halt eviction proceedings during a state of emergency, like a hurricane. The Miami Beach politician, a Democrat in District 113, submitted a request to draft such a bill following the eviction of a 75-year-old woman in South Beach late Friday night, just days before Hurricane Dorian was predicted to make landfall in South Florida. Miami-Dade…
Linkpoint Properties nabs Pasteur Medical Center in Hialeah for $5M
Linkpoint Properties bought the Pasteur Medical Center in Hialeah for $4.7 million, as more investors seek out commercial properties in the burgeoning Miami-Dade city. Linkpoint, led by led by Camilo Niño, Ricardo Uribe and Alex Sanchez, bought the 10,662-square-foot medical center at 4440 West 16th Avenue for $440 per square foot, according to a press release. The seller is Orion Group Realty.
Mayorga Organics to Open 33,000 SF Coffee Distribution Facility in Miami
Mayorga Organics, a producer of organic coffee, will open a 33,000-square-foot distribution facility in Miami. The new facility will work in conjunction with the company's existing center in Rockville, Md., to distribute coffee along the East Coast. The facility, located across from Miami International Airport at 4101 NW 25th Street, is expected to be operational by Nov. 1 and open to the public by Dec. 1 of this year.
Task force to boost Palmetto Bay revamp
Palmetto Bay's negotiations over a project that, if approved, will transform the village's downtown into a modern city center will probably begin this month and include a new task force created to boost public input, Mayor Karyn Cunningham said. The five-member task force will enter talks alongside Village Manager Ed Silva with developer i3 Interests LLC, which sent an unsolicited proposal to the village in…
Shalala talks of role in Grove Playhouse restoration
At a Coconut Grove town hall meeting, Miami Commissioner Ken Russell and US Rep. Donna Shalala made slight mention of the now-closed Coconut Grove Playhouse, though the congresswoman said she would consider how she could weigh in on the future of the historic venue. She would be the second member of Congress to play a part in the ongoing struggle over the playhouse. Rep. Frederica…
Chart: USA's Leading Economic Indicators Decline, but Remain Better than Others
As can be seen in the chart in this "best house in a bad neighborhood" tweet by Carl Quintanilla, the leading economic indicators for the United States have declined significantly, of late registering below 100. However, as indicated by the humorous comment accompanying it, it is not the worst, with Europe's leading economic indicators having declined significantly more and ahead of that of the United States.
Close Call: Hurricane Dorian Passes, But Is CRE Ready For The Next Storm?
Now that the winds have slowed down and evacuations have stopped, South Floridians agree: unpredictable Dorian was the most annoying hurricane ever. The near-miss should nudge commercial property owners to get ready for the next storm. Insurance rates could see a bump following Dorian, said Ryan Cassidy, Franklin Street's senior director of insurance services. "It's like gas prices," he said.
Shake-A-Leg for disabled seeks city-aided upgrade
Shake-A-Leg Miami – a water sports organization serving youth and adults with disabilities, including veterans – will celebrate its 30th anniversary next year, an occasion that also marks the expiration of its current management agreement with the city. The facility sits on prime city-owned waterfront property in Coconut Grove. Shake-A-Leg's co-founder and president, Harry R. Horgan, hopes to negotiate…
Miami-Dade could double workforce, affordable housing
Miami-Dade is poised for a funding infusion that could more than double the county's existing affordable and workforce housing over the next two decades through the US Department of Housing and Urban Development's Rental Assistance Demonstration (RAD) program. The federal housing department last month approved a countywide portfolio application to transform public housing development…
Brickell House condo association scores $41 million over failed parking garage
More than four years after unit owners at the Brickell House tower reported issues with a robotic car garage, the condo association received an award of over $40 million. A Miami-Dade County judge awarded the condo association $40.6 million last week from the development group, BrickellHouseHoldings, over issues stemming from the failed car garage. The amount comes in addition to a…
Plaza Coral Gables to top off two buildings
Two of the four vertical midrise buildings at the Plaza Coral Gables mixed-use development just south of Miracle Mile will top off this month, the developer said in a release. The two buildings have been under construction for a year, said Agave Ponce, the developer. Also set to take place before the end of September are the final concrete pour for 2811 Ponce, the class A office building facing Ponce…
Office construction in Miami hits a new record
Office development in Miami hit its highest level since 2009, thanks in part to tenants relocating from high-tax states. Over the next two years, 1.9 million square feet of office space is expected to be completed, according to data from CBRE. That rise in new office construction is due to demand from corporations looking to grow their Latin American business, and tenants relocating from high-tax…
As Hurricane Dorian barrels toward South Florida, developers and builders prepare
Across South Florida, developers and builders are securing tower cranes to blow with the wind like a weather vane, putting away debris that could become projectiles and emptying out dumpsters of loose materials as Hurricane Dorian barrels toward Florida's coastline, projected to become a powerful Category 4 storm. As of Friday afternoon, the hurricane was a Category 3 storm with maximum…
Introducing ThorLogis, Thor Equities' ambitious plan to break into logistics and e-commerce
The e-commerce industrial revolution has arrived for Thor Equities. After spending years as a champion of brick-and-mortar stores, the firm is launching a new business called ThorLogis that plans to spend $900 million on purchasing and developing logistics properties, according to the Wall Street Journal. It is already at work on two sites in Red Hook, Brooklyn and the Netherlands. Thor bought the site…
Sergio Rok adds to downtown Miami portfolio
Sergio Rok acquired a building near his family-owned company's home base in downtown Miami. Property records show that Camillus House Inc. sold the building at 275 Northeast First Street to Downtown Realty Investments LLP, which is tied to Rok Acquisitions, for $5 million. Camillus House, a nonprofit, received the property as a co-beneficiary of an estate gift. It will use the proceeds from the sale to…
Homebuilder DR Horton pays $12M for 25 acres in Florida City
Homebuilder D.R. Horton paid $11.5 million for 25.4-acres in Florida City as homebuilders continue to push south and buy land in southern Miami-Dade County. Arlington, Texas-based D.R. Horton bought the property at 612 Northeast 4th Street in Florida City for $452,756 per acre, records show. Florida City 70 Acres LLC, which is led by Alicio Pina, sold the property. Nearby, D.R. Horton has a…
Brickell Flatiron commercial space buyer seeks court-ordered discount on $22.5M sales price
Brickell Flatiron rendering Three years after agreeing to pay $22.5 million for Brickell Flatiron's retail and restaurant space, a partnership between Avi Dishi and Haim Yehezkel wants a Miami-Dade Court to reduce the purchase price over allegations of an undisclosed revision of the construction plans. In a recent-filed lawsuit in Miami-Dade Circuit Court, Manhattan-based Dishi and Sons, and Brickell Flatiron…
Sunny Isles Beach gives initial approval to moratorium on west-side development
Sunny Isles Beach gave preliminary approval to a moratorium on real estate development in an area with low- and mid-rise buildings on the west side of Collins Avenue, across from a high-rise row of oceanfront condo towers. The one-year moratorium is the latest phase of a controversial political response to alleged flaws in the city's comprehensive land-use plan and efforts to make the plan consistent with…
Owners of new Miami Design District school hired mayor's law firm to represent them in zoning appeal
The owners of a new private school in the Miami Design District postponed the start of school because it does not have a temporary certificate of occupancy. Meanwhile, neighbors who are challenging the site's recent zoning change are now alleging that the property owners' law firm presents a conflict of interest for the city as they fight the appeal. In June, real estate investors David and Leila Centner…
Midtown 29 developers close $80 million refinance
Midtown 29 and Michael S. Morgan CEO of Morgan Group Morgan Group and Mesirow Financial closed on a $80 million refinance loan for their Midtown apartment tower next to the popular Cuban restaurant Enriqueta's Sandwich Shop. Miami Midtown 29 LLC, a joint venture between Houston-based Morgan Group and Mesirow Financial, secured the financing from TIAA for Midtown 29 at 180…
South Florida by the numbers: We're No. 1
"South Florida by the numbers" is a web feature that catalogs the most notable, quirky and surprising real estate statistics. As we approach the start of football season, it's only natural to get excited about the thought of sitting in a crowded stadium as our team dominates on the field, with one hand pounding our chests in victory and the other holding a single finger in the sky to declare our…
Judge dismisses Bath Club lawsuit against association and two unit owners accused of conspiring against Peebles Corp.
In a blow to Peebles Corp., a Miami-Dade judge tossed out a lawsuit brought against two high-profile unit owners and the association at the Bath Club, the historic Miami Beach private club the developer acquired and redeveloped in the early 2000s. Miami Dade Circuit Judge Beatrice Butchko last month ruled in favor of defendants Mark Penn, Thomas Ireland, the condo and maintenance associations for The…