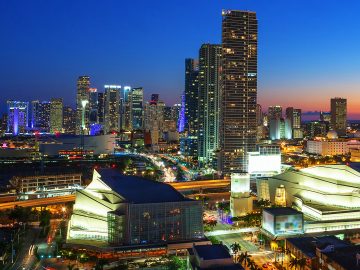 I Squared, Moving Headquarters to Miami, Raises $7 Billion for Infrastructure Investments
I Squared Capital, an infrastructure-focused private equity firm founded by former Morgan Stanley executives, has raised $7 billion for its second fund, exceeding its original target as competition for investor capital heats up. The fund, known as ISQ Global Infrastructure Fund II, will make equity investments that average $300 million for energy, utilities, transport and telecommunications deals around the world…
This promo clip from the Miami Downtown Development Authority (Miami DDA) discusses features and benefits for businesses located in the city's central business district (Miami CBD). Flashing between images of brightline, Citibikes, nightlife, office centers, and more, the clip endeavors to bring attention to the vitality of downtown, which has rapidly grown and evolved over the last few years. Considered…
Investors buy land in downtown South Miami, plan mixed-use project
More changes are coming to downtown South Miami. Edgewater Capital Investments just entered the development business with a $1.8 million purchase of vacant land at 7435 Southwest 61st Avenue, where the firm is planning to build a mixed-use project. Manny Mato, a principal at Edgewater Capital, said the firm wants to develop a four-story building that will…
Trump is considering a tax break that would be a boon for real estate
President Trump is considering a tax break that would link capital gains to inflation. Such a change would cut tax bills for investors selling real estate or stock by adjusting the original purchase price for inflation. For example, under current law, corporate stock with dividends held for a decade would be subject to a tax rate of 24.3 percent. When indexed to inflation, that rate falls to 21.4 percent, according to…
Little Haiti's Magic City Innovation District on tap at city
A property that for decades was home to a trailer park is to be reborn as a major mixed-use development bringing thousands of residential units, hotel rooms, nearly 350,000 square feet of commercial-retail uses and more than 1.9 million square feet of offices to the City of Miami. If that's not ambitious enough, the developers of Magic City Innovation District hope to attract a railroad station too as…
Allen Morris-Related Group projects in talks for Coral Gables
There is still no deal between Coral Gables and developers to turn two city-owned Andalusia Avenue garages into multi-use buildings. The original deadline for the city and the developers, Coral Gables City Center LLC (CGCC), to come to an agreement was Sept. 1. After Sept. 1, the city could have started negotiations with the runner-up developer, Terranova. But the deadline has been pushed back another month…
Search and destroy: How CoStar became a $15B juggernaut
Just before 8 a.m. on Dec. 13, 2016, two teams of sheriffs descended upon narrow streets lined with cinder block buildings in Laoag, a city in northern Philippines. They stormed a pair of office buildings, leading some onlookers to think brawls had broken out. In fact, the target was Avion BPO, a call center and research facility with U.S. clients. A group of panicked Avion researchers locked themselves in a room…
Pinnacle plans new senior affordable housing for south Miami-Dade
A new senior affordable housing project is underway in Miami-Dade's South Miami Heights neighborhood, the first in the area for more than two decades. Pinnacle Housing Group is developing Caribbean Village at 19755 Southwest 110th Court, just north of Southland Mall. The project is set to rise on about 3.25 acres of public land, Pinnacle partner David Deutch said. The 123-unit transit-oriented project will…
SoFla's office, multifamily sales fall in Q2, year-over-year: report
Some of South Florida's best performing real estate sectors now appear to be showing signs of a cool down — with the exception of Palm Beach County's multifamily market and the tri-county region's retail and industrial asset sales. A new report from the data firm Vizzda and the Miami Association of Realtors shows that the volume of office and multifamily sales fell in South Florida in the second quarter of…
Ice River Springs, others lease space at Miami Industrial Logistics Center; other leasing news
Three companies signed leases at Miami Industrial Logistics Center, a three-building warehouse and distribution center in northwest Miami-Dade County that totals nearly 677,000 square feet. Supply chain logistics company Pegasus Logistics Group inked a 20,750-square-foot lease at 15002 Northwest 107 Avenue. Casal Group represented the tenant. Ice River, a bottled water company producing…
Pointe Development, Monceau Realty Submit Bid to Develop $33.5M Town Hall, Civic Center in Miami-Dade County
Pointe Development Co., in partnership with Monceau Realty Group, has submitted a bid to develop a new town hall and civic center in Surfside, a town in Miami-Dade County. The proposed $33.5 million development would be located at 9293 Harding Avenue and 269 93rd St., which are the sites of the current town hall and a municipal parking lot, respectively. Plans for the project include a new town hall…
Offices, Retail Part of Public-Private Partnership Proposed for Surfside Civic Center
A developer is proposing Class A offices and retail as part of a $33.5 million project that also would feature a new town hall, civic center and police station in Surfside, Florida, a small oceanfront town north of Miami Beach. Pointe Development Company wants to build about 61,000 square feet of offices and 11,000 square feet of ground-floor retail as part of a civic and recreation center at 9293…
Declare the Grove Playhouse as being historic?
The Coconut Grove Playhouse was discussed by National Register Review Board in Tallahassee on August 9. The Playhouse was considered for listing on the National Register of Historic Places. The board went over criteria of the building original 1927 design by Kiehel and Elliott Architects. Melissa Wyllie, Director of the Florida Trust for Historic Preservation and about nine other speakers spoke about the cultural…
County suing City of Miami over Coconut Grove Playhouse decision
The County is suing the City over the Coconut Grove Playhouse. There is a meeting on Thursday, September 6, regarding historical status of the Playhouse. The suit is against the City of Miami Commissioners who ruled in favor of saving the Playhouse, considering it historic. At a meeting in December the City Commissioners discussed an appeal by two Grove residents and the HEP Board's approval of…
New Development Focused on Wellness Opens in Florida
Aventura ParkSquare opened in the past month as a mixed-use project focused on health, wellness and walkability in Aventura, Florida, an affluent suburb north of Miami that's drawing increasing interest from developers. Victor Ballestas, principal of Integra Investments, said he expects the 1.2 million-square-foot project on 7.4 acres at Waterways Boulevard and NE 207th Street to serve as a new town center…
Developer Snags $138M Construction Loan Even as Miami's Condo Market Sputters
A developer secured a $138 million loan to finance a 57-story waterfront condominium near downtown Miami, an impressive feat according to one analyst who says the city's saturated condo market is well past its peak. The financing from JPMorgan Chase Bank comes with the 100-unit Elysee nearly half sold and in the early stages of vertical construction. The project by Two Roads…
Site Selection in Tertiary Markets, Making the Most of Incentives
Incentive packages can really make a difference to a smaller company's profit and loss statement… There is no question that incentives play a role in site selection, even in small-town America. While the Amazons of the world grab headlines for site selection and financial incentive packages to lure them to community 'X' and 'Y,' it's worth remembering when seeking an industrial site or back-office location…
Three Warehouse Leases Completed In The Past 60 Days At The Miami Industrial Logistics Center In Hialeah
State Street Realty recently leased an impressive 92,259 square feet of industrial space at Miami Industrial Logistics Center (MILC) located within the Hialeah Gardens/Medley Industrial submarket. The following transactions were completed in the past 60 days: Pegasus Logistics Group, Inc. leased 20,749 square feet of industrial space at 15002 NW 107 Avenue, Hialeah Gardens. State Street Realty Vice…
Retailers dip their toes with short-term deals
With so much turmoil in the retail market, tenants are increasingly looking to do short-term deals. Figures from CBRE show that since 2016, the number of retail leases inked for shorter than three years has increased dramatically, the Wall Street Journal reported. Retailers are using the shorter terms to test out new locations and see where rents will go. "The obvious positive on the tenant side is that they…
Bus shelters created by Ferrari designer coming to Miami Beach
Style-conscious Miami Beach has decided that even its humble bus shelters need an updated look. So, the city government has hired a bus-shelter design team that includes Pininfarina, an Italian firm famous for designing Ferraris. The city of Miami Beach named Fort Lauderdale-based Acai Associates as the architect for the bus-shelter project, and Acai hired Pininfarina as designer. Pininfarina has…
Moody's buying CRE data firm Reis in $278M deal
Moody's is buying Reis, the commercial real estate data company, in a deal valued at $278 million. The financial services company best known for its credit ratings is paying all cash to acquire Reis and incorporate its data archive of some 18 million properties into Moody's Analytics offerings, Globe Street reported. "Their data on CRE supply and Moody's Analytics' insights on the…
LISTEN: The Real Deal discusses dirty money in U.S. real estate
For the The Real Deal's first-ever subscriber conference call, managing issue editor Damian Ghigliotty sat down with reporters Will Parker and David Jeans to discuss money laundering in U.S. real estate. Check out the SoundCloud player to listen to the full conversation, and be sure to keep an eye out for more information on our next conference call, happening in mid-September.
Coral Gables approves Regency on the Park
A new 152-unit apartment building is in the works for the city of Coral Gables. Developer Alliance Starlight I LLC, led by Roberto Trapaga and Henry Paper, just won unanimous site plan approval from the city commission for its Regency on the Park rental project on the southwest corner of Galiano Street and Calabria Avenue. Behar Font & Partners designed the 12-story building. Jorge L. Navarro of…
Developer proposes $33.5M mixed-use town hall in Surfside
Surfside may get a new town hall. Pointe Development Company and Monceau Realty Group submitted an unsolicited proposal to build a new town hall and civic center between 87th and 96th streets. The team was the only group to submit a proposal after Surfside opened up bidding, and the proposal will go before the commission in late September, attorney Alex Tachmes said. The proposal calls for a…
Nationwide rents remain largely flat during August: report
In the battle of West Coast versus East Coast, one might say the former just added another notch under its belt. The price for a one-bedroom in Santa Ana, located in Orange County, climbed 3.4 percent, knocking Miami off the list of the top 10 most expensive places to rent, according to a new report from Zumper. Otherwise, rents remained relatively flat nationwide last month, with one- and two…
South Florida construction starts fall in July
South Florida construction starts fell in July on a year-over-year basis. Total building activity declined 38 percent to $586 million in July 2017, according to Dodge Data & Analytics. Residential construction starts decreased 17 percent to $354 million. And commercial construction saw the sharpest decrease, down 55 percent to $232 million from $521 million. On a year-to-date basis through July…
Real estate bigwigs weigh in following governor's race nominations
After Democrat Andrew Gillum pulled off a stunning upset against well-funded competitors Gwen Graham, Philip Levine and Jeff Greene for the Democratic nomination for Florida governor in Tuesday's primary election, many members of the real estate industry found themselves Googling Gillum, mayor of Tallahassee. The Florida Association of Realtors won't take a position on the new candidates…
Avra Jain, Terra among developers planning new projects in Hialeah
A slew of developers are proposing new projects for the city of Hialeah, amid strong efforts to transform its image from an industrial and manufacturing district into a trendy residential and commercial area. New entertainment venue proposed near Hialeah Market Station: Among the new projects, developers Avra Jain and David Martin of Terra are partnering to refurbish an aging 6-acre…
CN Hotels scores $12M loan to build Hilton Garden Inn in Homestead
CN Hotels just secured a $12 million loan to build a Hilton Garden Inn in Homestead. Greensboro, North Carolina-based CN Hotels filed plans with the city of Homestead July 2017 to build a six-story, 130-room hotel with 76,632 square feet at 2601 Northeast 9th Court. The company purchased the 2.6-acre vacant land for the building on December 2017 for $1.7 million from a company affiliated with DDR…
Blackstone buys Sedano's-anchored center near Miami Lakes
A company tied to Blackstone Group just dropped $34.5 million on a Sedano's-anchored shopping center near Miami Lakes, property records show. Miami-based commercial real estate firm Saglo Development sold the Vista Shopping Center at 6400 Northwest 186th Street, along with three standalone buildings, a 7,730-square-foot 7-Eleven, a La Brasa Rotisserie & Grill restaurant and an adjacent Jiffy…
Henley USA buys another Miami Beach hotel for $20M
Henley USA, the U.S. arm of United Kingdom-based private equity firm Henley, just purchased another boutique hotel in Miami Beach. Encotel LLC, led by Enrique Colmenares, sold the Eurostars Vintro Hotel at 2216 Park Avenue for $20 million in an off-market deal, according to One Sotheby's International Realty. Susan Gale of One Sotheby's represented the seller and buyer, whom the brokerage…
Will Brightline Get $1.75B In New Bonds, Add A Stop In Treasure Coast?
Florida's new, privately run train, Brightline, has already sold $600M in private activity bonds and started up luxury service between Miami, Fort Lauderdale and West Palm Beach. To extend to Orlando as planned, it is seeking another $1.75B in bonds, and Wednesday will ask the Florida Development Finance Corp. to issue them. Courtesy of Brightline Brightline President Patrick Goddard waves to riders May 19…
South Florida Office Volume Surges in 2Q 2018
South Florida office dollar volume rose to its highest value in the past three quarters, according to the new 2Q 2018 The Quarterly Report – South Florida Commercial Real Estate released by data firm Vizzda (Visual Data) and the MIAMI Association of Realtors Commercial (MIAMI Commercial). Miami-Dade, Broward and Palm Beach counties registered a combined $799.4 million in office sales in 2Q 2018…