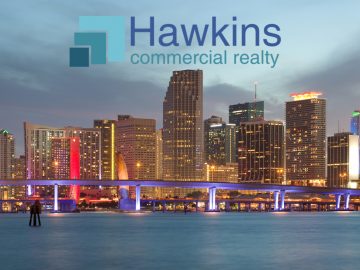 Codina Partners' plan for Coral Gables rental tower advances with three-way property swap
Codina Partners' plan for a high-end rental tower in Coral Gables is a step closer… As part of the three-way trade, Codina Partners bought a 1.3-acre development site… bought Coral Gables' former police building at 2801 Salzedo Street from the city for $16.7 million… had given the city land for its new police department headquarters at 2151 Salzedo Street.
Terreno Realty pays $50 million for two buildings at FECI's Hialeah industrial complex
Terreno Realty Corp. paid $50 million for two recently completed industrial buildings at Countyline Corporate Park in Hialeah. San Francisco-based Terreno Realty, a publicly traded industrial real estate investor, bought the properties at 4021 and 4071 West 108 Street from affiliates of Florida East Coast Industries, records show. The buildings total 274,000 square feet…
Miami Worldcenter developer sells 1-acre lot to Abbhi Capital, doubling its site
Miami Worldcenter Associates sold another piece of the mega-project to Coral Gables investment firm Abbhi Capital. Abbhi paid $20 million for the 1-acre development site between Northeast 10th and 11th streets along Northeast First Avenue, according to a press release. It's zoned for nearly 850 residential units and 1.2 million square feet…
Chart: TIPS Spread Indicating Highest Inflation Expectations in 13 Years
The TIPS spread, United States Treasury bond yields less Treasury Inflation-Protected Securities (TIPS) yields, for the 5 years ending April 2, 2021. The TIPS spread is the difference in the yields between United States Treasury bonds and Treasury Inflation-Protected Securities (TIPS). It is a useful and oft-quoted measure of expectations for (CPI) inflation in the financial…
The Fed: Is Inflation Making a Comeback?
The average price level dropped sharply during the early stages of the COVID-19 pandemic and has gradually recovered since then. As a result, annual inflation has remained low: The 12-month change in the personal consumption expenditure (PCE) price index reached 0.5% in April 2020, its smallest increase that year. Core PCE inflation (which excludes food…
Florida lawmakers look to restrict impact fees
Amid a booming real-estate market in many areas, state lawmakers are moving forward with proposals that would place additional restrictions on impact fees that cities, counties and school boards say are needed to help keep up with growth. House and Senate committees Wednesday approved bills that include putting limits on impact-fee increases and defining…
Bank OZK Provides $64.8 Million Construction Loan for Natura Gardens Apartments in Miami
Bank OZK has provided $64.8 million in construction financing to Terra and New Valley, the development partners of Natura Gardens, a multifamily community in Miami. The loan will fund the ongoing construction of the 23-acre community, which will encompass 460 garden-style apartments across 12 three-story residential buildings. The development broke ground…
TM Real Estate sells Miami Gardens office park for $15 million
TM Real Estate Group sold the Lincoln Square office complex in Miami Gardens for $15.35 million. Coconut Grove-based TM Real Estate sold the office park at 18405 Northwest Second Avenue to Preminger Investments, according to a news release. The buyer assumed an $11.5 million CMBS loan on the property with a fixed interest rate of 4.9 percent and about…
$15.4 Million Sale of Lincoln Square Office Complex in Metro Miami Arranged
Aztec Group Inc., a real estate investment and merchant banking firm, has arranged the $15.4 million sale of Lincoln Square, a 116,560-square-foot suburban office complex located at 18405 NW 2nd Avenue in Miami Gardens. Peter Mekras and Brell Tarich of Aztec Group led the transaction. Miami-based TM Real Estate Group ran a marketing process to sell the…
Opportunity Zone investors pour in ahead of key deadlines
This is a critical year for Opportunity Zone investors. Real estate developers, property owners and funds have until the end of December to take full advantage of the federal tax-break program, but have also benefited from a Covid-related deadline extension. Though the coronavirus briefly paused Opportunity Zone investment nationwide, backers…
These US real estate titans made Forbes' 2021 billionaires list
The world minted new billionaires at a rate of one every 17 hours in 2020 — and some of those came from the real estate industry. Zillow co-founders Rich Barton and Lloyd Frink, eXp World Holdings founder Glenn Sanford and his wife Penny, and Florida home-builder Patrick Zalupski were among the real estate industry's newest entrants into the ranks of the uber…
Foreclosures and evictions could be halted for rest of 2021
An onslaught of home foreclosures and evictions could be forestalled for another year. The Consumer Financial Protection Bureau is looking at restrictions on mortgage servicers that would prevent struggling homeowners from going straight into foreclosure. The agency has proposed a measure to stop mortgage servicers from proceeding with…
Office landlords offer discounts to lock in leases
Office landlords in New York, Chicago and San Francisco could be taking a hit in the next few years even if some companies lock in long-term leases. More companies are keeping their offices, but are downsizing those spaces to allow employees to work remotely part-time, according to data from VTS, first reported by the Wall Street Journal. The analysis shows that…
Miami-Dade seeks federal funding for Northeast commuter rail line
Background work for a planned commuter rail linking Miami to Aventura is underway, as Miami-Dade applied last month for federal funding for the project and is in talks with operator Brightline to run the route. If all goes according to schedule, construction of what is known as the Northeast Corridor will be done in 2024, according to Luis Espinoza, spokesman…
State finishes six-year, $260 million Krome Avenue upgrade
After more than six years of non-stop construction to enhance Miami-Dade's westernmost thoroughfare, the Florida Department of Transportation's (FDOT) $260 million Krome Avenue improvement program is finished. FDOT on Friday announced completion of the 11th and final project in the program, which began in February 2015. The projects…
David Martin: Leads Terra to develop projects based on community needs
David Martin wants to build better neighborhoods. His firm, Terra, has developed more than 5 million square feet of residential, commercial and mixed-use projects. Another 3 million or so square feet are on the way, adding up to more than $8 billion portfolio of assets. In the 20 years since he co-founded Terra with his father, Pedro Martin, the company's aim…
Miami Industrial Real Estate Quarterly Market Report Released: 1st Quarter 2021
The Miami industrial market's Q1 vacancy rate was 4.6% at the close of the quarter with a $13.16 per sq. ft. average (gross) lease rate. Industrial vacancies are for Miami warehouses are back below the National Index rate after climbing higher in 2020 for the first time in 20 years. Deliveries have totaled 4.7 million sq. ft. over the past 12 months. After trending…
Terra scores $65 million loan for Northwest Miami-Dade project
Terra is moving forward with its multifamily project in northwest Miami-Dade County, near the planned American Dream Miami mega-mall. Terra and New Valley secured a $64.8 million construction loan from Little Rock, Arkansas-based Bank OZK for Natura Gardens, a 460-unit development planned for a 23-acre site along Northwest 170 Street between…
Miami's Real Estate Boom: Too Good To Be True?
Every Monday, Mirielle Enlow, executive vice president of operations for Keller Williams in Miami Beach, gathers her top real estate agents for a meeting that she calls the Millionaire Mega-Agent Mastermind. With South Florida now experiencing a well-publicized real estate boom characterized by top-dollar prices and fierce competition for homes, you might expect…
Amol Sarva trashes Newmark after ouster from Knotel
Knotel co-founder Amol Sarva took some shots at its new owner, Newmark, on his way out the door of the flex office company he ran into the ground. In a blistering email Friday evening, Sarva accused the brokerage of using the bankruptcy process to take over the once high-flying Knotel and damaging the company's relationships. In months leading up to…
Peebles accuses former associate of "anonymous and malicious" smear campaign
Don Peebles is accusing one of his rivals of running a covert smear campaign against him. The Peebles Corporation head claims that former business associate Daniel Hoeg used untraceable Russian servers to send anonymous, defamatory emails to public officials who were reviewing Peebles' real estate projects, according to a lawsuit filed Friday in…
Big Tech firms led office leasing in 2020
Big Tech keeps getting bigger, and the office footprint of the companies in the sector is keeping pace. Tech firms leased more office space than any other industry last year, according to CBRE's latest TechInsights report. In total, the tech sector took about 26 million square feet in 2020, which accounted for 17 percent of total office leases. Tech has dominated…
Construction, leisure & hospitality jobs rebounded in March
The leisure and hospitality industry bounced back in March, adding 280,000 jobs to the economy as hotels, restaurants and bars continued to reopen across the country. Bars and restaurants saw the majority of job gains last month, as 175,000 individuals were brought back to work, according to the latest data from the U.S. Bureau of Labor Statistics. Hotels added…
Visualizing the CRE Market Timer's Thought Process
These probability distribution charts are the topic of this article. The first is a normal distribution of returns using a combination of a cap rate of 5% and rent growth of 2% (and assuming an unchanged cap rate a year later) further assuming an annualized standard deviation of returns of 6.5%. The second is how some market participants feel this is in reality now…
Openings From Carbone to Moxy Hotel Enliven the Miami Scene
Things were looking grim last year, when Miami's hospitality industry took an estimated $3.4 billion hit from March to August 2020, according to a recent study. Fast forward to March 2021, when the city's hotel occupancy rate hit 80.7 percent, according to data from STR, with many Miami Beach hotels reporting sold-out weekends — and Miami was back as one of…
Video: GSU's Jon Wiley, PhD and Lynn Mckee on Opportunity Zones and the Office Market
Jon Wiley, PhD, Professor at J. Mack Robinson School of Business at Georgia State University, and Lynn Mckee, Lecturing Professor at the J. Mack Robinson School or Business at Georgia State University and Senior Vice President and Commercial Real Estate Banker at SunTrust Bank, appear on America's Commercial Real Estate Show to discuss opportunity zones…
New York Taqueria Tacombi Comes to Miami
Yet another Big Apple institution is coming to South Florida. Tacombi, the popular New York-based taqueria chain, will open two branches in Miami this year. One location is slated to open in October by Lincoln Road, the popular shopping street in South Beach, according to information from the Lincoln Road Business Improvement District. Tacombi has signed up…
Q&A With Yair Levy, Developer Of Miami's Time Century Jewelry Center
Yair Levy, founder of Time Century Holdings, is the developer behind the Time Century Jewelry Center, a planned epicenter for Miami's jewelry and diamond trade that will command an entire square block when it opens in mid-2022. Levy is sinking $50 million into the renovation of a lackluster shopping mall in downtown Miami to create his 225,000-square-foot…
Cold Storage's Explosive Growth Hasn't Removed Its Risk
The growth in the cold storage sector of industrial real estate over the past 12 months has been simply staggering. Average rent for U.S. cold storage space increased about 15% from the first quarter through the end of last year, CoStar Group reports. Since 2017, rent in the sector has grown by 29%, easily outpacing the still-impressive 21% growth in industrial…
Construction spending fell slightly in February
Thanks to bad weather and pricier materials, construction spending fell slightly last month — though it's still higher than it was last year. National construction spending dropped 0.8 percent to a seasonally adjusted estimated rate of $1.516 trillion in February, according to the Census Bureau's monthly report. In January, spending hit a record rate of…
Wynwood Norte plan aims to spur new affordable housing development
A city of Miami zoning overhaul of a traditionally single-family neighborhood just north of Wynwood is largely aimed at enticing affordable housing development in the area. The Miami City Commission last week unanimously approved the Wynwood Norte Neighborhood Revitalization District, a zoning overlay that proponents claim will…
Canadian investor scoops up Hallandale Beach office building for $17M
A Canadian real estate investor expanding its holdings into South Florida bought a Hallandale Beach office building for $16.5 million. Soliman Corporation, based in Montreal, purchased the 1250 Building from Murray Family Associates, an affiliate of Hallandale Beach-based real estate firm KEI Properties, the buyer said. It's roughly 80 percent occupied.
CubeSmart buys Weston self-storage for nearly $12M
CubeSmart scooped up a Weston self-storage facility for $11.5 million. The Malvern, Pennsylvania-based company bought the building at 1500 North Park Drive from an affiliate of South Florida real estate investor Leo Ghitis, according to a deed. The 93,182-square-foot storage facility was built in 1991 on 6 acres, property records show. Ghitis, through 1500…
Publix pays $10 million for site of new Fort Lauderdale supermarket
Publix is advancing its plan for a new store in Fort Lauderdale's Lauderdale Beach neighborhood, buying the development site for $10 million. Deed records show Publix bought 1.4 acres of mostly parking lots and an existing retail building at 2985 North Ocean Boulevard in two separate purchases. In one deal, Publix bought 0.9 acres consisting of two adjacent parking…
Intalex Capital buys Plantation office park for $15M
Intalex Capital bought a Plantation office complex, Executive Court at Jacaranda, for $15 million. Fort Lauderdale-based Intalex Capital, through an affiliate, bought the offices at 7800-8040 Peters Road from Executive Properties, according to a deed. Intalex took out an $11.2 million loan from Pacific National Bank to finance the purchase. Property records show…
Kushner's Proposed 1M SF Industrial Project in Palm Beach County Could Impact Florida Agricultural Reserve
Palm Beach County, Florida, commissioners in 1980 set aside 21,000 acres in the western part of the county as an agricultural preserve for farmland, wetlands, water resources and open space. Now, New York-based Kushner Cos. intends to build a massive, 1M SF industrial warehouse on 51 acres that had long been the site of a plant nursery. To proceed, Kushner would…