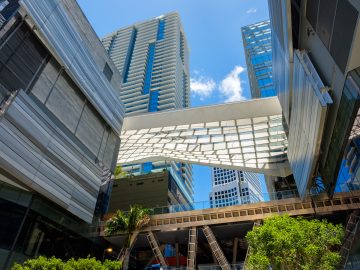 RREEF America buys Hialeah industrial property for $178M
An affiliate of Deutsche Bank bought the Centergate at Gratigny in Hialeah for $178 million, marking South Florida's largest industrial sale of the year to date. RREEF America bought the three-building property at 5801 and 6301 East 10th Avenue from Newark, New Jersey-based PGIM, records show. Centergate at Gratigny totals 1.6 million square feet and has two newly constructed distribution buildings…
Florida's Largest Industrial Deal
The industrial park comprises three buildings located at 5801 and 6301 E. 10th Ave. The Class A industrial property includes a 979,000-square-foot distribution and light assembly warehouse that was built in 1999 with varying clear span heights of 32 feet, 17 feet and 13 feet. The warehouse also offers 1.7 parking spaces for every 1,000 square feet, 140 trailer parking spots and a 7 percent overall office…
Russell Galbut closes on a missing piece of his Edgewater assemblage
Russell Galbut's Crescent Heights closed on a corner piece of his assemblage in an Opportunity Zone in Miami's Edgewater neighborhood, The Real Deal has learned. The Miami-based firm, which is planning a major mixed-use project on the land assemblage, paid $4.9 million for the 10,452-square-foot property at 2901 Northeast Second Avenue, according to a source familiar with the deal.
China City Construction site in North Beach sells to hotel developer for $40M
A Chinese company that once promised to build a luxury residential building on an oceanfront lot in Miami Beach has sold the site to a hotel developer for $40 million, The Real Deal has learned. CCCC Miami Beach LLC sold the nearly 1-acre plot at 6747 Collins Avenue to Urbanica Management LLC, according to brokers Miguel Pinto and Stefano Santoro of Apex Capital Realty. The deal closed on…
The Last Vacant Oceanfront Parcel In Miami Beach Just Sold
The last undeveloped parcel of oceanfront land in Miami Beach has traded hands. The 0.98-acre lot sold for $40M — just about $1K per SF — in an off-market deal. The property is located at 6747 Collins Ave., in between the Deauville Beach Resort and Sterling Condominiums in the neighborhood known as North Beach. Developer Don Peebles had bought the land for $4.6M in 2010 and…
Las Vegas Cuban Cuisine owner wants to build co-living in North Beach
The family that owns Las Vegas Cuban Cuisine, a group of popular Cuban restaurants, is looking to redevelop its location in North Beach into co-living. Las Vegas Beach Corp. filed plans for a 24,265-square-foot, 55-foot building at 6970 Collins Avenue. The project, designed by Antoniazzi Architecture, would have 21 co-living units with an average size of 546 square feet, plus 3,500 square feet of restaurant…
Virginia Key sports park plan faces two-year time out
It will be at least another two years before Miami-Dade County turns the old landfill on Virginia Key over to the City of Miami, which has plans to develop the site into a sports park. The city owns most of the barrier island, which connects the mainland with Key Biscayne via the Rickenbacker Causeway. Responsibility for the landfill rests with the county. Miami-Dade County's expansive remediation plan…
After side issues, look at the crux of golf course giveaway
A three-day environmental scare last week nearly powered a below-par bid to plow under the only golf course in Miami city limits. Why did officials negotiating to lease Melreese Golf Course for what could be the city's largest private development first close the course based on an environmental report and then three days later reopen it because nothing was really new? Was it caution to protect golfers…
CIM Group Breaks Ground on Mixed-Use Development in Wynwood
CIM Group has broken ground on a mixed-use development in Miami's Wynwood neighborhood. The project will feature 27,000 square feet of street-level retail and studio space, about 60,000 square feet of office space, 257 apartment units and approximately 480 parking stalls. The yet-to-be-named project will span a city block from NE 22nd and NE 23rd streets, four miles north of downtown Miami.
Charts: U.S. Net Exports as a Percent of GDP, then by Trading Partner (as a Percent of GDP)
Above is a chart from the Federal Reserve Bank of St. Louis of the net-exports-to-GDP ratio for the United States. Notably, it has been negative since the late 1970s, and for the last decade or two has been considerably less so that its most negative dip in 2005 or so. Economists have proposed various reasons for the persistence of the trade deficit. One involves sources of income the USA…
Trump disputes report that Doral golf resort has bedbugs
Donald Trump, and Trump National Doral Miami golf resort (Credit: Getty Images and iStock) President Trump disputed a resurfaced report that the Trump National Doral Miami golf resort has bedbugs after he proposed hosting next year's Group of Seven summit at the property. Trump took to Twitter to respond to social media posts stemming from a 2016 lawsuit by New Jersey insurance executive…
Is Bob Zangrillo in or out of $1B Magic City project?
A post shared by bobzangrillo (@bobzangrillo) on Aug 10, 2019 at 8:41pm PDT Miami developer Robert Zangrillo appears to still be involved in the $1 billion Magic City Innovation District project in Little Haiti. Zangrillo is among the dozens of parents – including actresses Felicity Huffman and Lori Loughlin – indicted earlier this year for their participation in the largest-ever college admissions…
Arison-developed Hamilton on the Bay hits the market in Edgewater
Carnival Cruise Line founder Ted Arison built Hamilton on the Bay, a waterfront residential building in Edgewater, in the early 1980s. Now, a company affiliated with the Arison family is looking to sell the 271-unit apartment building and surrounding land. The property, at 555 Northeast 34th Street, is on the market and expected to sell for more than $100 million, brokers say. A comparable sale in 2015 would…
Integra Investments, partner buy Miami Beach office building near Lincoln Road
Integra Investments and Constellation Group acquired an office building just off Lincoln Road for $10.1 million. Ivy Realty sold the 31,270-square-foot office building at 1674 Meridian Avenue, property records show. The building includes 5,505 square feet of retail space, according to a release. Ivy Realty, a commercial real estate investment firm based in Greenwich, Connecticut, paid nearly…
Integra Investments, Constellation Group Purchase Office Building in Miami Beach for $10.1M
Integra Investments and Constellation Group have purchased a 31,270-square-foot office building located at 1674 Meridian Ave. in Miami Beach for $10.1 million. The asset also includes 5,500 square feet of ground-level retail space. The partnership will market the office space to small- and medium-sized tenants. New ownership is planning a multimillion-dollar renovation that includes upgrading the lobby…
Bath Club association, Mark Penn and Thomas Ireland score court victory over Peebles
In a blow to Peebles Corp., a Miami-Dade judge tossed out a lawsuit brought against two high-profile unit owners and the association at the Bath Club, the historic Miami Beach private club the developer acquired and redeveloped in the early 2000s. Miami Dade Circuit Judge Beatrice Butchko last month ruled in favor of defendants Mark Penn, Thomas Ireland, the condo and maintenance associations for…
Video: Tower Capital Founder Adam Finkel Provides Commercial Property Financing Update
Adam Finkel, Principal and Co-Founder of Phoenix based Tower Capital, joins America's Commercial Real Estate Show to discuss how interest rates, underwriting, and lender sentiment are affecting the commercial real estate market. The brief rise in rates, quickly followed by the recent drop, is discussed as relief for borrowers just as increases were anticipated.  The conversation moves on to underwriting…
Firm Adds 30 KSF at Miami-Area Business Park
Off Lease Only, an independent car dealership, has inked a 30,000-square-foot lease extension at AVE Aviation & Commerce Center, a 178-acre, master-planned business park in Opa-Locka, Fla. The 15-year lease for the company's vehicle showroom and offices is in the 171,000-square-foot Building J of the mixed-use campus. AVE Aviation & Commerce Center is at 14350 NW 56th Court in the Miami…
The trade war keeps escalating. Here's how it'll impact real estate
For months, trade war tensions with China have been on the rise. The Chinese government said Friday morning it would implement a $75 billion retaliatory tariffs on U.S. goods — a response to President Trump's $300 billion tariff on Chinese goods. After the announcement, Trump said he would raise tariffs on Chinese goods by as much as 30 percent, according to the Wall Street Journal. As the back and…
Surge of hotel development leads to declines in occupancy, revenue in South Florida
South Florida hotel occupancy rates fell slightly in the first half of the year as the supply of rooms increased faster than bookings, recently released data shows. "It's positive to see that more people traveled here … It's just that hotel developers are building too many rooms, for now," Paul Weimer, a Miami-based senior vice president of CBRE said. Research by hotel industry monitor STR shows the tri-county…
Lionheart Capital scores TCO for long-delayed Ritz-Carlton Residences, Miami Beach
Lionheart Capital secured a temporary certificate of occupancy for its long-delayed luxury condo project The Ritz-Carlton Residences, Miami Beach. The TCO from the city of Miami Beach means that closings can finally begin at the 111-unit, 15-villa luxury development at 4701 Meridian Avenue, where prices range from $2 million to over $40 million. The project is currently more than 70 percent presold…
New frontier? Developers look to Hialeah
Developer Avra Jain is looking to bring back the glory days of Hialeah, a working class, predominantly Hispanic city in central Miami-Dade, just southwest of Miami International Airport. Jain is planning a major adaptive re-use commercial development on about 6 acres of land in east Hialeah, she said during a panel hosted by CREW Miami at Four Seasons Hotel Miami earlier this week. Jain, who acquired the…
Long-suffering retailers took another serious beating in Q2
Ahead of new tariffs on Chinese goods set to hit everything from tracksuits to ski gloves, second quarter earnings reports from big retailers have been a mixed bag. Affordable, big box and discount brands like Target fared relatively well, while sales from higher-end companies such as Victoria's Secret and Nordstrom disappointed yet again. Razor-thin profit margins call for creative tactics from the…
Atlantic | Pacific closes $140M portion of multifamily fund
Atlantic | Pacific Real Estate Group and Blue Arch Advisors closed a $140 million portion of a fund that invests in multifamily properties in the Southeast and Southwest U.S. The fund is looking to raise a total of $300 million, which will give it buying power of over $750 million. Investors in the fund include domestic and international institutional investors as well as high net worth individuals, according to a…
Cote NYC heads to Miami, Sushi Garage opening at CocoWalk, & other restaurant news
CocoWalk at Coconut Grove Cote | Miami Design District Cote, a high-end Korean barbecue steakhouse, is coming to Miami. The Michelin-starred restaurant will open in a 5,892-square-foot space at 3930 Northeast Second Avenue in the Design District, according to brokers Lyle Stern and Sara Wolfe of Koniver Stern Group. Wolfe brokered the deal. The restaurant is expected to open in the fall of…
Finvarb and Cho land construction loan for mixed-use hotel near Brickell City Centre
Co-developers Robert Finvarb and Tony Cho closed on a $67 million loan for a mixed-use hotel near Brickell City Centre, records show. C-F Brickell Owner LLC secured the financing from City National Bank to build on the assemblage of nearly 29,000 square feet of land at 115 Southwest Eighth Street in Miami. Last year, the Miami Urban Development Review Board approved plans for a 21-story, 264-key dual…
Inside the saga that led Regalia's developers to lose ownership of their most prized units
A Miami-Dade judge ruled the developers of Regalia, a luxury condo tower in Sunny Isles Beach, must turn over 100 percent interest in the companies that own the remaining two – and most expensive – unsold units, The Real Deal has learned. The ruling is a blow to the developers who failed to sell the top-priced penthouse and beach house, each currently listed at more than $15 million, amid a…
BBX Capital, Altman sell Altis at Bonterra in Hialeah for $90M
BX Capital Real Estate and Altman Companies sold the 314-unit Altis at Bonterra apartment complex in Hialeah to AvalonBay Communities for $90 million. The joint venture sold the property at 3645 West 98th Street for $286,624 per unit, records show. The property spans 14 acres off of I-75 in the far western side of Miami-Dade County. Construction began in the first quarter of 2016 and…
Chart: Former Treasury Secretary Larry Summers Illustrates Lack of Ammo to Combat a Recession
There has been considerable discussion of late, and for that matter in recent years, of the Fed's dwindling reserve of firepower to help mitigate the next recession. It has been a while, but surely one will come at some point. They always have. Former Treasury Secretary Larry Summers sums the situation up nicely with a recent tweet: There is little room for interest rate cuts. In every US recession since the…
$46 Million Sale of Contiguous Sites in Miami's Wynwood District Arranged, Buyer Plans to Build Multifamily Units
Avison Young has arranged the $46 million sale of seven contiguous parcels in Miami's Wynwood neighborhood. An affiliate of PMG Acquisitions LLC purchased the land and plans to build multifamily units up to six stories high above the existing single-story retail buildings. Six of the seven parcels have retail buildings already in place. The land is located at the corner of Second Avenue and 24th…
Chart: Another Perspective on the Inverted Yield Curve
Does the recent flattening of the #yieldcurve portend #recession? Not necessarily. The flattening of the real yield curve may simply reflect the fact real consumption growth is not expected to accelerate or decelerate from present growth rate of about 1% y/y. This is an interesting and unique (versus pundits at large) perspective on the inverted yield curve provided by Don Curren. His Twitter feed…
Challenges For Gulfstream Park: Retail Closings, Family Feud, Horse Deaths
Gulfstream Park, a horse racing track and casino just north of Miami in Hallandale Beach, Florida, underwent a $130M renovation 15 years ago, with an update of its racing and casino facilities and the development of a luxury shopping center component. But a recent spate of retail closings at the complex, plus a legal battle between its owners and the waning popularity of horse racing, raise questions about…
Here's how toxic findings at Melreese could affect Beckham's stadium project's rent
David Beckham and Jorge Mas' development group may now have to pay less in rent to the city of Miami after toxic contaminants like arsenic, barium and lead were found seeping under the soil at Melreese golf course, where they plan to build a $1 billion MLS stadium complex. Pollutants were found to be above the legal limit in a report this week by environmental…