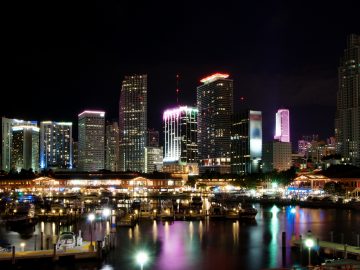 Virgin Trains USA starts building rail line to Orlando
Virgin Trains USA announced Tuesday that construction of its highly anticipated expansion from Palm Beach County to Orlando is underway, beginning with preliminary groundwork for a 70-acre maintenance facility and 3.5-mile rail section at Orlando International Airport. The "Phase 2" expansion, which the company formerly known as Brightline said in statement will be completed and in service…
David Beckham, partners to close on county site in Overtown after all
David Beckham and his partners will close on a site in Miami's Overtown neighborhood, even as they forge ahead with their plans to build a mega-soccer stadium complex on a different property near Miami International Airport. According to a statement from Inter Miami CF, the Major League Soccer team owned by Beckham, Jorge and Jose Mas and others, the group remains "fully committed to bringing…
Here are South Florida's top multifamily sales in April
A company tied to Shiff Group Holdings sold a 239-unit apartment complex in Miami's Little River neighborhood for $23.3 million. Zvi Shiff, of Shiff Group Holdings, sold the 239-unit development at 1401 Northwest 103rd Street for about $97,489 per unit, records show. The buyer is a Delaware company, Newcastle Lake LLC. The Silver Blue Lake Apartments are right off I-95 near Miami Shores City Hall.
Sugarcane chef opening downtown Miami concept & other Miami restaurant news
Chef Timon Balloo, a chef-partner at Sugarcane Raw Bar Grill, is opening a new concept in downtown Miami called Balloo: Modern Home Cooking. The 800-square-foot restaurant is set to open at the Ingraham Building at 25 SE 2nd Avenue in downtown Miami this summer. Bar Lab Group, led by mixologists Gabriel Orta and Elad Zvi, will open a 1,172-square feet…
Busted: City doles out code violations to Miami commissioner's Coconut Grove home
It looks like Miami Commissioner Joe Carollo's outspoken goal to enforce code violations in Little Havana has come back to haunt him. Miami government officials went to Carollo's home in Coconut Grove on Monday and found five violations for work done without permits, according to the Miami Herald. The Herald obtained an email showing that employees from the city's code compliance, building…
Brazilian developer redesigns Miami Beach condo to include more luxury units
The developer of a boutique luxury condo project in Miami Beach is adding units based on increased demand, a rarity during a condo market slowdown. Multiplan Real Estate Management is adding 10 "sky residences" to 57 Ocean, now a 71-unit development planned for 5775 Collins Avenue, managing partner Marcelo Kingston said. That brings the number of sky residences to 18, up from 8. Penthouse…
County aims to build two hotels at Miami International Airport
In a booming local hotel market, Miami-Dade County plans to issue solicitations to developers to design and construct two new hotels at Miami International Airport, Mayor Carlos Giménez revealed in a memo to county commissioners this month. One hotel would be built directly east of the airport's Dolphin Garage and across from the North Terminal. The second hotel would be built on the airport's short…
Miami may be ready to pick Virginia Key marinas operator
After years of controversy, countless meetings, administrative appeals and lawsuits, the City of Miami may be ready to move ahead with a new operator for its marinas on Virginia Key. The final court case has finally ended and today's (5/23) agenda for the city commission includes two proposed resolutions that would determine the fate of Rickenbacker Marina and Marine Stadium Marina on the city-owned…
Roads area due Tru Hilton hotel geared to younger guests
A new hotel brand that targets younger travelers is planning a new location in The Roads neighborhood of Miami. Benito Irastorza, president and chief executive officer of IRAS Group, is the owner-developer proposing a Tru Hotel by Hilton at 1931 SW Third Ave. The selected-service hotel will rise eight stories and offer 141 rooms, have parking for about 73 vehicles, and have an exterior pool deck at…
Dinner Key Marina to be returned to former glory
More than 20 months after Hurricane Irma tore up Dinner Key Marina, the City of Miami is ready to bring the marina back to its former glory at a cost that could exceed $22 million. On today's (5/23) agenda, city commissioners are to consider hiring a company to repair and rebuild the marina, located on the waterfront in Coconut Grove, surrounding historic Miami City Hall. Before Hurricane Irma, Dinner Key…
Commercial insurance rates facing double-digit climb in June
'Tis the season… for commercial insurance rates to rise, observers say. "Commercial property insurance rates are expected to increase 10% to 20% within this calendar year," said Ryan Papy, president of Keyes Insurance, a part of The Keyes Co., via email.v"The main factor is the rise in reinsurance rates," he continued, referring to the insurance that carriers buy to protect themselves against exposure in case of…
Approval rates rise for small business lending
Approval rates for small business lending continue to grow and those in finance say it is all thanks to a strong economy. But traditional lenders are rethinking their lending strategies as more nontraditional players are taking advantage of the strong economy and playing the field. Loan approval ratings for small business lending is growing. Banks are averaging 18% higher approval rating from the first quarter…
Virgin Trains USA starts work on tracks to Orlando
Virgin Trains USA, formerly Brightline, has started a $4 billion construction project on the tracks between West Palm Beach and Orlando International Airport. Virgin Trains said the first load of steel for the tracks was shipped from Steel Dynamics in Fort Wayne, Indiana, on May 16. The high-speed rail project will take three years. While there are existing tracks from West Palm Beach to Jacksonville, they…
Dressbarn is winding down operations and closing 650 stores including 2 in Miami
Dressbarn is the latest casualty of the retail apocalypse. Ascena Retail Group announced on late Monday it planned to wind down operations for its Dressbarn chain and close all of its 650 stores, according to a press release. The company did not give a date as to when it would officially close its stores. Ascena Retail Group also owns the Justice, Lane Bryant, and Catherines clothing store brands. "This…"
Flying carport at Miami Worldcenter featured on CBS Sunday Morning
CBS 5-17-19 No Exit Paramount Miami Worldcenter from World Satellite Television News on Vimeo. A very Jetson future is here, and it's live on television. Paramount Miami Worldcenter was featured on CBS Sunday Morning for its flying carport amenity. Developer Dan Kodsi has modified the condo tower's design to fit a 5,000-square-foot skyport on top of the 60-story, 530-unit building. While it would be…
Real estate seen as "safe haven" amid trade war uncertainty
While the stock market at large took a beating amid last week's escalation of the U.S.-China trade war, one sector continued to show strong growth: real estate. By offering investors more exposure to domestically-oriented businesses, real estate investment trusts have largely established themselves as a safe haven from global supply-chain disruptions, the Wall Street Journal reported. "Our conclusion…"
Blackstone pays $209 million for Doral apartments
Blackstone Group paid $208.75 million for a pair of neighboring apartment complexes in Doral, marking the largest multifamily deal in South Florida so far this year. The Related Group and Rockpoint Group sold 720 units, split between Doral View at 901 Northwest 97th Avenue and Town Fontainebleau Lakes at 1062 Northwest 87th Avenue. Blackstone paid about $290,000 per apartment. Cushman…
Macerich exec says "the retail apocalypse is a good thing"
As e-commerce continues to kill brick-and-mortar stores, some landlords appear to be embracing the new reality for retail. "The retail apocalypse is a good thing," said Jesse Franklin, the vice president of investment and innovation at retail giant Macerich, during a panel Monday at the International Council of Shopping Centers convention in Las Vegas. "It's calling out all of those retailers that have…"
South Florida Retail Summary (Q1 2019)
Market Snapshot for South Florida Retail A summary of the highlights, trends, and current market activity of Q1 2019 for South Florida commercial real estate focusing on Miami-Dade County: Analysis derived and compiled from leasing data and transaction reports in order to better understand the overall health of the CRE market in Miami-Dade County. In…
Coral Gables and Doral Among The 10 Best Small Cities For Entrepreneurs
Florida, perhaps for its tax friendliness and educated population, is very well represented on the list of small cities for starting a business. Twenty of the top 50 small cities are in Florida, and three made it into the top 10. With just over 51,000 residents, Coral Gables just barely meets the Census Bureau definition for a city, or standard metropolitan statistial area, as bureaucrats put it. But what it lacks in…
Up the River: The Miami River, Past, Present, and Future
To look at the history of the Miami River, is to look at the history of Miami itself. According to historian Jerald T. Milanich, the world "Miami" is a derivation from "Mayaimi," which referred to the vast size of Lake Okeechobee. (Another interpretation is that Miami means "sweet water.") Spanish explorers who visited Miami in 1743 mentioned "Maymies" or "Maimies" living in the area. The Miami Circle…
Developer picks up Edgewater property for $14 million
A large development site in Edgewater near the Related Group's Paraiso development just sold for $13.65 million, The Real Deal has learned. Edgewater 29 LLC, tied to DLC Capital Management, a family office in Miami, bought the property at 2927 Northeast Fourth Avenue. Property records show the seller is AR Edgewater Investments, which is controlled by Juan Agudelo Restrepo. The zoning allows…
Investment group buys South Beach building near Crescent Heights project for adaptive reuse
Fwd Group paid $5.35 million for a building near an upcoming Crescent Heights project in South Beach where it's planning an adaptive reuse project, The Real Deal has learned. Seven Forty Central Corp., led by Boris Shvartsman, sold the property at 740 Alton Road to 740 Alton Rd LLC, which is led by Jefferson Brackin. Fwd Group, founded by Brackin and his partner, Michael Bird, is an investment…
Here are South Florida's largest office and retail sales in April
The parent company of VirginTrains USA, Florida East Coast Industries, sold the office portion of its MiamiCentral station for $159.4 million. Coral Gables-based FECI sold the ground floor retail, two office buildings and the parking space at 600 Northwest First Avenue to San Francisco-based Shorenstein, property records show. Wells Fargo provided a $126 million mortgage to Shorenstein to finance the…
New industrial development in Hialeah Gardens breaks ground
A new 65,500-square-foot industrial building is coming to Hialeah Gardens amid a wave of new industrial development. CanPen Holdings is building a 65,500-square-foot warehouse at 14600 Northwest 112th Avenue. It marks the first development project for Medley-based CanPen Holdings, whose principals are Jose "Pepi" Cancio Jr. and Mario Penzo. Cancio's father, Jose Pepe Cancio Sr…
Office vacancy rates are rising in downtown Miami: report
The downtown Miami office market took a beating in the first quarter, despite the opening of new state-of-the-art buildings like the office portion of the Virgin MiamiCentral train station. According to a JLL report prepared for the Commercial Industrial Association of South Florida, downtown Miami experienced a negative absorption of nearly 18,000 square feet during the first quarter, mostly due to the…
Developer Lissette Calderon plans flurry of projects
You might say Lissette Calderon was born to be a developer along the Miami River. When her parents brought her home from the hospital, they lived in an apartment building on the mouth of the river. The building is now long gone to unveil the underlying Miami Circle, home to the indigenous Floridians who first appreciated living on the river. As a child, Calderon says she loved reading about…
Beckham group faces deadline to keep Overtown stadium site under contract
David Beckham and rendering of the soccer stadium his group planned to build in Overtown. David Beckham and his partners have less than two weeks to pay $901,500 and keep three acres of county-owned land in Miami under contract for a soccer stadium. The Beckham group owns six acres in the Overtown area of Miami and contracted to buy another three acres from Miami-Dade County to build…
IMC Equity Group buys flea market property near Liberty City
IMC Equity Group bought the Flea Market USA property at 3017 Northwest 79th Street  in the West Little River neighborhood of Miami for $13.5 million, where it plans to build a mixed-use project. Carlos De J. Segrera, chief investment officer of IMC Equity, said the group plans to build a multi-phased mixed use project with retail and a residential portion with up to 2,500 units. He expects the building to break ground next year and the project…
Spain's Richest Person Bets Billions on Prime U.S. Real Estate
Ortega's U.S. spending spree increases the value of his global property empire beyond $13 billion, according to the Bloomberg Billionaires Index, giving him the biggest real estate portfolio among Europe's super-rich. Diversifying his fashion fortune to preserve his sizable wealth, Ortega has invested… landmark properties like Manhattan's historic Haughwout Building and Miami's tallest office tower.
Alex Karakhanian picks up Miami Design District building
Investor and developer Alex Karakhanian closed on another property in the Miami Design District. A partnership led by Karakhanian paid $12 million, or $1,445 per foot, for the 8,304-square-foot building at 3921 to 3925 Northeast Second Avenue, he said. Rammos HoldCo Inc., led by Bill Rammos, sold the lots, which total 9,240 square feet of land. Rammos will remain a partner in the property. Tony Arellano…
Revenue fell at Trump's Palm Beach properties in 2018
President Trump's Palm Beach County businesses lost $3.6 million last year, according to newly released financial disclosure forms. Mar-a-Lago reported the biggest drop in revenue, down 10 percent year-over-year to $22.7 million in 2018, according to the Palm Beach Post. The report, filed with the Office of Government Ethics on Thursday, only shows asset values in ranges and does not include profits or…
Miami-Dade County Zoning: Administrative Requirements of Workforce Housing Bonuses
In 2007, the Miami-Dade County Board of County Commissioners adopted Ordinance No. 07-05, which created a voluntary Workforce Housing Development Program in order to encourage development of land available for residential use targeted towards the workforce income group. The program allows real estate developers to obtain density and intensity development bonuses by providing either…
When Florida lenders act in bad faith
When companies in Florida look to expand or move into a better space for their operations, they may decide to purchase commercial real estate. This can be a very important decision for the company and one that needs to be done carefully. There are also many steps to the process, but it usually starts with securing the money for the purchase through lending. This is usually secured from a bank or other…
Only Florida Taxes Commercial Leases. NAIOP Wants To End That.
Florida is the only state in the nation to charge sales tax on commercial leases, which it has been doing since 1969. The rate was 5.7%, but in the annual legislative session that ended this month, lawmakers agreed to roll it back to 5.5% starting in January. It will be the third fraction-of-a-percentage-point rollback in three years. Darcie Lunsford, president of the South Florida chapter of NAIOP — which…
Contraction in the real estate offer of new units in Miami predicts a positive future
A recent study conducted by the firm Integra Realty Resources – Miami | Palm Beach (IRR-Miami), confirmed the forecasts on the real estate market in South Florida. The number of units under construction was reduced by 43%, between the second and fourth quarter of 2018, with a total of 1,649 units delivered. Of these units, 1,020 belong to the new Edgewater area, while the remaining 513 are part of…
Video: RC Analytics SVP Jim Costello Presents Retail Property Investor Outlook
Jim Costello, Senior Vice President of RC Analytics, joins America's Commercial Real Estate Show to discuss the retail property market. Among the topics discussed are transaction volume, cap rates, and adaptive reuse. He starts by discussing issues in the sector, with some some great properties not trading, and other properties with trouble that have transaction activity around them. Deal activity he states…
I.M. Pei, who designed Miami Tower, other monuments of culture, dies at 102
I.M. Pei, the architect who began his career designing buildings for William Zeckendorf and went on to bring to life some of the most iconic structures of the 20th Century, including the Louvre pyramid, died early Thursday. He was 102. Pei emigrated from China to the U.S. in the 1930s and after attending Harvard's Graduate School of Design worked in-house for Zeckendorf's firm, Webb & Knapp. He then…
Former Georgia gubernatorial candidate buys waterfront Palm Beach condo
Former two-time Georgia gubernatorial candidate Guy Millner bought a waterfront condo in Palm Beach for $5 million. Millner bought the 3,432-square-foot condo, unit 413-E, at 400 South Ocean Boulevard for $1,456 per square foot, records show. Millner bought the unit from Nancy Brougher of York, Pennsylvania. Brougher had paid $225,000 for the condo in 1998, records show. The unit has four…
Receiver sues Jay Peak EB-5 developer's attorney and law firm over alleged misconduct related to Miami developer
Beginning in 2006, more than 800 EB-5 investors thought they were investing in a promising new ski resort in Northern Vermont. But years after investors started putting their money into the Jay Peak project, the Securities and Exchange Commission in 2016 alleged that the two developers ran a "Ponzi-like scheme." It is considered the largest alleged EB-5 fraud to date. Now the court-appointed receiver…
Life Time Launches High-End Apartment Concept: Miami Among First Cities to Open
Health club chain Life Time is running into the high-end multifamily segment with the launch of Life Time Living, a health-focused luxury residential experience that will be opening its first locations in Dallas, Las Vegas and Miami. Combined with Life Time Fitness and Life Time Work, these projects will now be Life Time Villages. Life Time Living's first location in DFW will be in Midtown Dallas near Interstate…