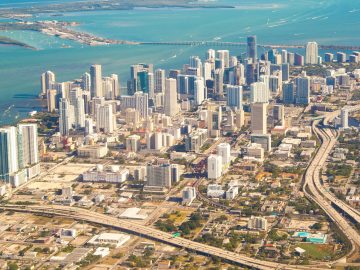 Redevelopment of CocoWalk advances as demolition starts on property's east side
Demolition work is under way on the east side of the CocoWalk complex in Coconut Grove to make way for a five-story office building and street-level retail space. It will be the first new office building to open since 1989 in Coconut Grove, where the office vacancy rate is 1 percent, according to research by Blanca Commercial Real Estate. Construction of the 85,000-square-foot office building, called One…
New Hotel Chain for Digital Nomads Opening Soon in Little Havana Like A Backpackers' Hostel With Coworking
In September, an outpost of Selina will open in Miami's Little Havana neighborhood at 1450 SW Seventh Street, the site of the former Tower Hotel. The hospitality company, which already operates 24 locations throughout Latin America and the Caribbean, is like a travelers' hostel that comes with coworking space and a cool tour guide, designed for today's globetrotting, Instagram-happy laptop junkies.
33-Year-Old Jon Paul Perez Will Eventually Take Over Related Group. For Now, He's Transforming Wynwood
33-year-old Jon Paul Perez is the eldest son of Related Group Chairman and CEO Jorge Perez, the so-called "Condo King" of Miami. As a kid raised in South Beach and later Coral Gables, the younger Perez was mildly aware that his dad had transformed South Florida. Jon Paul Perez is learning how to run Related Group. At 33, he already oversees multiple condo projects. "When you're growing up around it, you…"
Downtown Miami Expected To Undergo Construction Spike: Study
The Magic City has 12 acres of buildable potential in the downtown area, according to a recent study. That puts Miami on par with Los Angeles in terms of available land. The study also predicted that downtown Miami would undergo a construction spike in the years to come. "As with most Floridians, Miami respondents indicated they prefer improved bus transport, better walkability and more bike lanes…"
More Developers, Investors Turning To Parking As An Industrial Product Type
Tom Barbera formed Industrial Outdoor Ventures in January 2017 with one goal: to carve a niche within industrial real estate from truck and trailer lots, container yards and freight terminals. The assets he is considering are parking only — no property on-site beyond maybe some truck repair services — often where access to warehouses is short. Trucks from haulers and shipping and logistics companies can…
JV Kicks Off Work at Coconut Grove Mixed-Use Project
Federal Realty Investment Trust, Grass River Property and Comras Co. have commenced the redevelopment phase of CocoWalk, a retail-driven lifestyle center in Miami's Coconut Grove submarket. The partnership revealed its plans for CocoWalk in May 2017 and recently kicked off the transformation program of the eastern… with an expected delivery date set for late 2019. Located at 3015 Grand Avenue…
Miami Mayor to Host Quarterly Miami 21 review
Mayor Francis Suarez will host the first quarterly Miami 21 Review and Enhancement Group on June 1. City residents, property owners and development professionals with interests in real estate development in the City of Miami are encouraged to attend. The purpose of the quarterly meeting is to provide a venue for real-time feedback relative to practical application of policies and procedures that affect the…
A Pricey Drafting Error in a Jewelry Store Lease
Many of the topics we cover in this space ultimately come down to problems in drafting (such as here, here, and here).  Of course, these drafting issues aren't apparent when the parties execute the lease, contract, or other document. A new case about an exculpatory clause (a provision that limits or eliminates the liability of one of the parties to a contract to the other) in a lease is a good example.  In Obsessions…
Deco Capital will again seek approval for mixed-use Sunset Harbour project
Deco Capital Group is returning to the city of Miami Beach seeking approval for its mixed-use project in the Sunset Harbour neighborhood. The developer submitted plans to the Miami Beach Planning Board for a 65,000-square-foot project, which would have more than 20,000 square feet of retail space, 12 residential units and parking. RWN Real Estate Partners, a New York-based private equity…
United States Sailing Center keeps Olympic training site
It wasn't easy but the United States Sailing Center Inc. was able to keep its piece of the Coconut Grove waterfront for at least another decade. The Florida not-for-profit corporation had campaigned for more time. The US Sailing Center Miami is one of only 18 official US Olympic Training sites sanctioned by the US Olympic Committee, and the only one for sailing in the US. The city is the owner of real…
Miami's hopes to be a World Cup city rest on a vote in Moscow
Miami-Dade's hopes to be a World Cup city during the 2026 soccer tournament rest on whether the United Bid Committee (UBC), comprising the US, Canada and Mexico, secures enough votes June 13 to be the host nations. The county's mayor and commissioners, who voted unanimously in favor of Miami hosting a match, await the votes to see if further action can be taken. On June 13, a day before…
Miracle Mile streetscape wins a thumbs-up
Newly widened sidewalks and updated features along Miracle Mile and Giralda Plaza in Coral Gables are inviting pedestrians to visit their favorite sites and linger long enough to discover new ones. Merchants rate the overall changes positively, with a few recommendations for improvements. The Miracle Mile and Giralda Avenue Streetscape project spans from Douglas to LeJeune roads on the Mile and from…
Shelved condo projects shrink pipeline of new construction in Miami, Fort Lauderdale: report
Miami's preconstruction inventory is shrinking, thanks in part to a handful of canceled or paused projects, a new report shows. About 83 percent or 16,714 of the roughly 20,000 units in the pipeline were presold as of April, according to the ISG Miami Report. While the percentage is up from the 80 percent that ISG reported last May, the total pipeline shrunk by about 3,200 units. ISG surveys the sales…
Contractor sues owner of bayfront Edgewater tower for $6.5 million in allegedly unpaid work
The contractor tasked with completing a $7 million renovation of a luxury apartment tower in Edgewater is alleging it was only paid a pittance, and is owed nearly the full amount for unpaid construction work. Sierra Commercial Construction is suing Properties of Hamilton Inc., the owner of the Hamilton on the Bay at 555 Northeast 34th Street. State records show the Hamilton company is controlled by…
Where we're going, we don't need drivers: Developers pushing for driverless tech
Developers across the country are pitching their mixed-use developments as incubators for driverless-car technology, which they hope could allow them to pack in more product. Developers are hoping that autonomous vehicles will free up space now allocated to parking spaces for other uses like residential and commercial. And some institutional investors are paying close attention to how ride-sharing…
City Of Miami Population Up 15.6% Since 2010, The Sixth Most In Nation
Thousands of new residents moved into the City of Miami again last year, according to newly released Census data. Since 2010, the city's population has increased at the sixth fastest rate of any big city in America, at 15.6%. As of July 1 2017, the city's population was estimated at 463,347. That is an increase of 1.47% over the year before, when it was 456,632 (from 2015 to 2016 the increase was 2.9%…
London-based Chotto Matte Opens on Miami Beach, Other Restaurant News
Developer Craig Menin and restaurateur Dennis Max are planning a massive, 30,000-square-foot food hall in Delray Beach. The developers will submit proposals for Delray City Market next month, according to SouthFlorida.com. The food hall will have 30 vendors with about 400 square feet each in the ground floor retail space of a building planned for 33 Southeast Third Street. Menin Development's…
Miami adviser: Sea-level rise may inflate federal flood insurance premiums by 2021
Premiums charged by FEMA's National Flood Insurance Program might surge in two to three years if they start to reflect the risk of sea level rise, according to the chairman of the Miami city government's task force on rising seas. The cost of flood insurance could double in two to three years if the FEMA program starts assessing the risk of sea level rise in setting premiums, said Miami attorney Wayne…
A frontrunner for Amazon's HQ2 seems to be emerging
If it weren't enough of a giveaway that Amazon has got serious designs on the capital, what with shortlisting three cities in the Washington metro area in its search for its new home for its second headquarters, even more evidence has emerged that seems to be hinting towards a winner in the vicinity. According to Business Insider, Northern Virginia's reputation for housing data centers–it is…
Construction phase of the old Fashion Mall's redevelopment may start soon
Construction of an eight-story building with rental apartments and retail space may start soon at the old Fashion Mall property in Plantation. It will be the first of three new buildings on the former site of the Fashion Mall, which closed in 2007 and was demolished last year. Encore Housing Opportunity Fund, led by developer Art Falcone, acquired the Fashion Mall for $37.7 million in a 2015 bankruptcy…
Fire and Hurricane Irma ravaged the Deauville Beach Resort, but owners won't make repairs, Miami Beach officials say
Ten months after a fire shut down the Deauville Beach Resort in Miami Beach, followed by water damage caused Hurricane Irma, city leaders want to force the owners of the historic Miami Modern-style building to speed up renovations and repairs. The city commission's land use committee this week directed Miami Beach City Manager Jimmy Morales to devise an aggressive action plan — including the…
A conversation with Kimco Realty's David Jamieson
The stock market hasn't been kind to REITs lately, and open-air shopping center operator Kimco Realty is no exception. Shares have fallen about 36 percent over the past 12 months, according to its Q1 2018 earnings report. Yet other metrics show that the New York-based company, which owns interests in 475 open-air shopping centers in the U.S., is otherwise doing quite nicely. Occupancy rates of its…
Alex Karakhanian buys Wynwood building leased to GoPro, Scripps Network
Alex Karakhanian's Lndmrk Development paid $12.2 million for a commercial property in Wynwood. Property records show Forte Capital Management affiliate New Wynwood 25 and other companies tied to Forte's Chaim Cahane sold the 20,730-square-foot office and retail building at 48 Northwest 25th Street for nearly $590 per square foot. It last sold for $5.3 million in 2013, according to property records.
Who Will Bankroll the $4B American Dream Miami?
Now that American Dream Miami has the blessing of county commissioners, the question becomes: How will the developer pay for the $4 billion behemoth? Triple Five Worldwide officials are revealing little about financing for the 5 million-square-foot planned mega mall and entertainment center, except to say that it likely will involve multiple lenders, similar to American Dream Meadowlands. For that sister…
After Hurricane Irma, officials approve $43.6M for Miami restoration
The bulk of the funding comes from FEMA-approved grants. The City of Miami is one step closer to being awarded funds to help restore countless of parks and facilities that were damaged by Hurricane Irma. Today, the Miami City Commission approved a resolution that authorizes the city to accept $34,193,228 in grants from the Federal Emergency Management Agency and $9,429,373 from an insurance…
Public money in play for park to combat sea level rise at Crescent Heights 5th and Alton development site
Some Miami Beach commissioners are open to the idea of using taxpayer dollars to buy a portion of Crescent Height's Alton Road redevelopment site between 5th and 7th streets to build a park that combats sea level rise. Any acquisition would be part of a deal in which Russell Galbut's Crescent Heights would still be allowed to build one of the tallest residential towers in South Beach. The Miami…
Following Amazon's acquisition of Whole Foods, competitors are wondering what's next for the notoriously secretive e-tailer
Ask any broker who's dealt with Amazon to tell you what it was like, and they'll present you with an airtight nondisclosure agreement prohibiting them from speaking. "Under the radar" doesn't even begin to describe the company's ultra-discreet approach to its real estate deals, especially as it's bought up, or leased, more and more property with each passing year. Second only to Apple as the world's most…
Developers could make bank from rollback of Dodd-Frank
Nearly a decade after bad real estate loans helped thrust the U.S. economy into a major recession, the House of Representatives passed a bill to roll back a number of regulations for banks. The changes, experts said, could become a catalyst for increased commercial real estate lending, opening up many new sources of funding to developers. On Tuesday, the House voted 258-159 in favor of a bipartisan…
South Florida Broker on Bubbies, Bubbas and Brightline
In the 1970s, Neil Merin was making $160 a week running a production line for a toy manufacturer in the Northeast when he quit to move to Palm Beach County for a property manager position that paid 10 percent more. The new gig would be short-lived. "The company I went to work for down here went out of business six months after I joined, so I went and got a real estate license and started…"
Beaker & Gray owners to open BoomBox in former Bardot site in Midtown
The owners of Beaker & Gray have signed a lease to open a new bar and lounge called BoomBox at Bardot's former site in Midtown Miami. BoomBox will open in a 3,264-square-foot space at 3452 North Miami Avenue late this summer, Marc Sirkin of Engel & Voelkers told The Real Deal. Sirkin and Asi Cymbal of Cymbal Realty represented the owner of the building, North Miami Avenue LLC, led by…