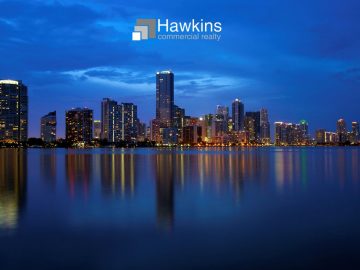 Investment Management Firm Expands Lease in Miami Beach, Breaking Florida's Rental Rate Record Per Square Foot
J. Goldman & Co. LLP, an independent investment management firm, has signed an eight-year lease for 3,318 square feet of office space and a 700-square-foot covered terrace at The Yukon Miami at 119 Washington Avenue in Miami Beach. J. Goldman, which already leases 1,223 square feet on the fourth floor of the Class A office building, broke Florida's per square foot…
Miami Commercial Real Estate Sales to List Price Ratio Recovers from July's Slight Dip ~ August 2020 MLS
After dipping a touch, just enough to make some market players wonder what it might mean, the sales to list price ratio as reported by the Miami MLS, rebounded right back to around 92%, very much in line with where is has generally been for the past few years. This ratio has held up well since coronavirus emerged. That this measure continues to stay steady overall…
University of Miami sells land for Walmart-anchored project
Ram Realty bought land north of Zoo Miami for $9.6 million, for a mixed-use development under construction anchored by Walmart. Palm Beach Gardens-based Ram bought the site at 15601 Southwest 127th Avenue from the University of Miami, according to records. The development has been known by the names Coral Reef Commons, as well as Botanical. Retail…
The CDC Says Indoor Dining Is Risky. Miami Restaurants Are Scrambling to Adapt
When the managers at All Day cafe convened for their weekly meeting on March 11, co-owner Camila Ramos could sense that major changes were afoot in the food-and-beverage industry. Although it was 24 hours before the mayor of Miami-Dade County declared a state of emergency, Ramos and her team began hatching plans for what to do if cases of the coronavirus…
Years in the making, $425M mixed-use Miami River development opens
The massive mixed-use River Landing Shops & Residences development along the Miami River opened after years in the making, while other projects in the area remain on hold. The retail, multifamily and office River Landing project was completed earlier this year, but the owner, H&R Real Estate Investment Trust, held off on a grand opening due to the pandemic.
H&R REIT, Urban-X Open First Wave of Tenants at $452M River Landing Development in Miami
Toronto-based H&R REIT and Coral Gables, Fla.-based Urban-X Group have welcomed the first tenants to open at River Landing Shops & Residences in Miami, the first phase of the $452 million River Landing mixed-use development. The first tenants opening beginning this week include Hobby Lobby, Burlington, Publix, Five Below, Chase Bank and AT&T. Ross Dress…
Quiet dorms and distress storms: Student housing sector takes hit
Stay-at-home orders and virtual classes have asked serious questions of the once-booming market for student housing. (Photo: University of North Carolina at Chapel Hill via Getty) A few days into classes in August, students at the University of North Carolina at Chapel Hill were in panic mode. Covid-19 cases were breaking out in dorm rooms and frat houses at the…
Miami-Dade puts new airport in Homestead onto agenda
After years of negotiating, it's time to make a deal to use Homestead Air Reserve Base land for Miami-Dade County aviation purposes, according to Commissioner Dennis Moss. Commissioners are to decide Oct. 6 whether to OK his resolution to direct Mayor Carlos Giménez to "expeditiously effectuate a joint use agreement with the United States of America to allow…
Idle arts center stages may become recording studios
With live and in-person performing arts productions at a halt, Cultural arts organizations are finding ways to put large empty theater stages to good use while fundraising initiatives continue. Doing everything possible to move forward and keep facilities operational, performing arts centers are consistently looking for permits, funds and grants to keep them afloat…
Beyond beetles and bats, is Miami Wilds deal best for us?
With Miami-Dade unemployment highest in 80 years and our visitor industry hurting as never before, a long-sought attraction that would add 300-plus jobs would seem heaven sent. Miami Wilds might be just that. But you can't tell that from its press clippings. As a committee last week recommended a lease for the water park beside Zoo Miami for a full…
Flywheel Sports files for liquidation bankruptcy
Flywheel Sports and its affiliates have filed for bankruptcy, joining a list of fitness studio operators crushed by the coronavirus. The spin-cycle studio brand's Chapter 7 filing would lead to liquidation of its assets. The documents were filed late Monday with the U.S. Bankruptcy Court in New York. Read more Dead weight: New York Sports Clubs owner files for…
Cushman partners with Industrious in bid to bring the office back
Cushman & Wakefield is betting big on co-working, even as millions of Americans have yet to return to the office amid the pandemic-imposed remote work revolution. The firm has teamed up with startup Industrious to help provide flex-office space for companies and individuals outside the corporate environment, according to the Wall Street Journal. The co…
South Florida by the numbers: Miami Heat back in the spotlight
"South Florida by the numbers" is a web feature that catalogs the most notable, quirky and surprising real estate statistics. Against the backdrop of a global pandemic and crackling racial tension, the Miami Heat find themselves back in the spotlight this month, with their first trip to the NBA Eastern Conference Finals since 2014. September…
The Compelling Math of Owning vs. Renting Commercial Property for Businesses
I find buyers commonly debating total monthly cash outlay to own versus that of renting in year one. Though I admire the cash-is-king disciple of this, I would submit that the projected net cost to own compared to that of renting is so attractive that is offsets they typically small differences in cash outlay at inception. After all, the difference, over time, tends to be…
Early economic effects from "safer at home" practices : What Census data from the Quarterly Services Survey can show us
Social distancing and "safer at home" practices have been in effect for many months now, so what do the data show us so far? These protective measures have had widespread effects across the economy; but some industries were affected much more quickly, as behavioral changes predated any official stay-at-home directives. Our first example is transportation revenue…
Developers buy land, score $25M loan for Target-anchored mixed-use project in Overtown
Michael Swerdlow and his partners' planned Target-anchored, mixed-use development in Overtown is moving ahead, despite ongoing litigation. The developers, including Swerdlow Group, SJM and Alben Duffie, closed on the land for the mixed-use development at 249 Northwest Sixth Street in Miami, and scored $25 million to finance the purchase, according to a release.
"Anything and everything is negotiable": Incentives for condo buyers mount in Miami
In early March, Residences by Armani/Casa's developers hosted a blowout opening party, featuring a Giorgio Armani fashion show, a performance by Pitbull, and a fireworks display over the beachfront pool deck of the high-rise condo. Agents offered tours of the Sunny Isles Beach tower's units and amenity spaces. Some attendees wore ball gowns, and the drinks flowed.
Amazon to open 100 more distribution centers this month
Amazon is riding the online-shopping boom brought on by the pandemic. The e-commerce giant plans to open 100 facilities, including fulfillment centers, delivery stations and sorting centers, in September, the Wall Street Journal reported. That's on top of more than 75 others opened this year in the U.S. and Canada.
South Beach dev site with multifamily, retail hits market
A development site in the Flamingo/Lummus neighborhood of South Beach hit the market, and could sell for at least the mid-$30 million range, according to the listing brokerage. The site includes seven multifamily and retail buildings on 1.4 acres at the southwest corner of Washington Avenue and 16th Street in Miami Beach. It includes 98 apartments and about…
Authentic Brands in talks to join J.C. Penney takeover
Authentic Brands, one of the most active bidders on bankrupt retail, is joining a deal to take over J.C. Penney. The New York-based brand management company is reportedly in discussions with Simon Property Group and Brookfield Property Group to participate in their plan to rescue J.C. Penney, according to Business Insider…
DeSantis moves Miami-Dade, Broward counties into phase two
Florida Gov. Ron DeSantis announced Miami-Dade and Broward counties will enter phase two of reopening on Monday, but that doesn't mean bars and nightclubs can open in South Florida. The move into phase two allows in-person schooling to begin in Miami-Dade and Broward counties, but does not force students to attend classes in person. For Miami-Dade County…
Mortgage rates sank to an all-time low — again. The average rate for a 30-year fixed-rate mortgage dropped .07 percentage points for the week ending Sept. 10, reaching 2.86 percent — a new low since Freddie Mac began conducting the survey in 1971. This time last year, the mortgage rates averaged 3.56 percent. Fifteen-year mortgages declined, too…
Drink up: Bars can reopen Monday in the Florida Keys — but not in rest of South Florida
Bar and brewery owners can drink to this: Florida will allow bars and breweries to reopen beginning on Monday at a reduced capacity. But the order, announced on Thursday evening, only applies to counties that have entered phase 2 of the state's reopening, which excludes Miami-Dade and Broward counties. Bars and breweries in other counties in phase 2 will…
CMBS delinquencies fell, but hold the applause
The special servicing rate has increased each month since the coronavirus pandemic hit the United States, and clocked a 55 basis point increase to 10.04 percent in August (iStock) The delinquency rate for CMBS loans has fallen for two consecutive months. Save the party supplies for later, though, because there is still no reason to celebrate. Many CMBS lenders have…
Lender acquires TooJay's out of bankruptcy
Florida restaurant chain TooJay's Deli is emerging from bankruptcy with a new owner. The West Palm Beach-based deli filed for Chapter 11 bankruptcy in April as a result of the impact of the coronavirus pandemic, which forced restaurants to shut their indoor dining rooms down temporarily. When it filed for bankruptcy, the company had 28 locations.
Real estate donors backing Biden over Trump
As the pandemic continues to wreak havoc on real estate, industry donors are siding with Joe Biden over President Donald Trump, records show. They have so far given $17.1 million to the former vice president's campaign and political action committees backing him, and $15.6 million to Trump, according to the Center for Responsive Politics, a nonpartisan research…
Estate Companies scores $36M construction loan for Soleste Spring Gardens
The Estate Companies scored a $36 million construction loan for an eight-story apartment complex in Miami's Health District. Bank OZK provided the financing for Soleste Spring Gardens at 1033 Spring Garden Road in Miami, according to a press release. The 240-unit complex will offer studios, one- and two-bedrooms from 400 square feet to 1,100 square feet…
JPMorgan is calling employees back to the office
JPMorgan is heading back to the office. The bank, one of New York City's largest employers, told senior employees in the sales and trading division that they and their teams are to return to the office by Sept. 21, the Wall Street Journal reported. By directing employees to return after months of working from home, JPMorgan's message is clear: It's safe to head back…
Bad breakup? Developer Vlad Doronin sues ex Naomi Campbell
Real estate developer Vlad Doronin is suing his ex-girlfriend, supermodel Naomi Campbell, for millions of dollars. Doronin, who develops projects in South Florida and New York, filed a summons in New York County Supreme Court on Friday. He alleges that Campbell wrongfully refused to repay loans that Doronin made to her and failed to return personal property valued…
Century 21 Stores files for bankruptcy, blames insurers
Century 21 Stores is the latest retailer to file for bankruptcy, and it blames insurance providers for its collapse. The New York-based off-price retailer filed for Chapter 11 bankruptcy on Thursday and announced it will wind down operations to close its 13 stores across New York, New Jersey, Pennsylvania, and Florida. The company said it was forced to file for…
Remote work threatens cash flows for office REITs
The rise of remote work puts cash flows for U.S. office real estate investment trusts at risk in the near and long term, according to a recent report from Fitch Ratings. Trepidation about the future of the U.S. economy has led companies to sign fewer and shorter leases, which hurts cash flows for office REITs in the near future. Moreover, the broader shift toward…
What is Going to Happen with Rent Payments?
The economic impacts of COVID-19 won't be fully measured for quite some time, but one thing is clear: many commercial real estate owners aren't receiving rental payments from tenants. Even as communities reopen, numerous restaurants, personal-service providers, and retailers don't do enough business to pay their bills. Restaurants operating at 25% of…
Trump's fair housing repeal roils multifamily developers
This summer, President Donald Trump put low-income residents on notice: The suburbs would be off-limits to them. His administration repealed an Obama-era rule known as Affirmatively Furthering Fair Housing — a moment amplified by a series of tweets from the president declaring victory for suburbs across the country. "I am happy to inform all of the people…
America's Largest Landlord To Make $550 Million Bet On Trailer Parks
A decade ago, Blackstone Group Inc. became America's largest landlord, purchasing tens of thousands of single-family homes during the foreclosure crisis. Now the private equity firm has spotted the next big opportunity as the virus-induced recession crushes the working poor, that is, betting on mobile-home parks.
Behind a Former South Miami Mayor's Idea For Real Estate Climate 'Restoration Bonds'
Politicians and developers in South Florida love to cheerlead about how great the region is, often brushing off concerns about climate change to instead talk about beautiful beaches and tax advantages. But Philip Stoddard, a Florida International University biology professor and the former mayor of South Miami, has a darker take. "My biggest concern is…"
Luxury Esgewater Condo Association Sues Airbnb While Platform Cracks Down On Parties
The condominium association of a luxury tower in Miami's Edgewater neighborhood has filed a civil lawsuit against Airbnb, and several additional lawsuits against Airbnb hosts, over short-term rentals at the property. Transient renters have led to problems including a shootout in an elevator and increased costs for security, maintenance and insurance…
South Florida Shutts Attorney Martha Rabbitt Comments on Commercial Real Estate Deals during COVID-19
Four South Florida attorneys discussed the impact of COVID-19 on commercial real estate deals in an article titled "Wuhan, Florida: COVID-19 Slashes Commercial Real Estate Deals in Stricken South Florida," published by the Daily Business Review. South Florida commercial real estate deals have decreased in sales and dollar value. "Lenders are being cautious…"